Fiverr Review
Variety of services
4.9/5
Pros
Categories for Products and Services
Transparent Freelancer Information
Good Search System
Private and Secure Communication System
Protected Payments
Cons
Might have inexperienced sellers
Prices for good sellers are high
The fiverr.com Review I am writing today is my honest and well-researched review for online businesses owners, (Is Fiverr a legit platform to improve your business?) this is the question that crossed my mind when I started to search for some services to improve my online businesses.
The primary goal of countless businesses, small and large alike is to increase their online sales. Whether you are a blogger or you run a mom-home based online business or even work for a vast eCommerce like Amazon, increasing sales or traffic through online channels, it looks easier than it actually is.
For example, Bloggers can have many problems with their websites, either technical or even simple problems in writings. There are so many problems we might face sooner or later, that's why we all searching for the best solutions to fix these problems or even improve our businesses as a bonus.
Fortunately, there are dozens of ways you can make more sales online, improve them or even fix the problems we might face, many of which you can implement right away. Some of these tips focus on specific strategies you can implement, whereas others are more generalized. In this post, we'll be looking at one of the many websites that can help us to reach our goals and help us improve our online businesses.
The fiverr.com Review will start as any other review by writing about this platform, simply answering the question of what is Fiverr.
Fiverr (Freelance service marketplace) is a platform that helps employers to find talents for their projects or businesses. Services facilitate meetings between employers and freelancers who can aid them in brand building or their marketing efforts, providing them with access to a vast pool of highly-qualified freelancers with thousands of services.
In Fiverr platform, Freelancers profiles can be accessed, there you will find their reviews, leaving you to decide whether you want to hire them or not. You can find just about any product or service you need, starting at $5 for each. The system works by hosting freelancers by having them post their services, products and work samples. You simply have to look up the best one that would suit your needs.
Overview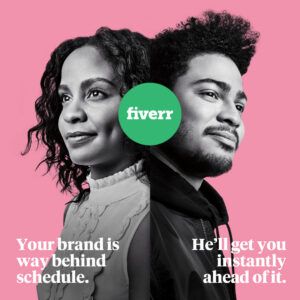 Website: https://www.fiverr.com/
Services prices: Start from $5
Support: 4.5 out of 5
Variety of services: 4.9 out of 5
User Satisfaction: 4.9 out of 5
My Score: 4.7 out of 5
Benefits of Fiverr
Fiverr offers plenty of benefits to entrepreneurs or business owners who require different services of high-qualified freelancers. Here are some of them:
#1 Transparency
You as a buyer able to see all the important information about the seller like rating, feedback, information about the service they provide among other information you might want to know. It is a good way to give you confidence when you want to buy a product or service from there.
#2 Search System
It is an amazing system offer a good filter seller search, you can use this system to find the best-seller there that provide the service you search for. You can notice there are 3 seller levels, and you can also see a tab for "new seller", with this system you can find the best or better say the right seller for you that fits your requirement and budget.
#3 Private and Secure Communication System
Fiverr provide you as a buyer with the seller you want to hire a good communication system, it is private and secure. What I mean by that the buyer is not allowed for example to ask you to chat outside the chat inside Fiverr, if they do that, you can report them and Fiverr might even delete their account. And even more than that, all the information about the service or product you want is secure and private between you and the seller.
#4 Protected Payments
Since all payments and transactions happen on Fiverr, they provide a protected way for both you as a buyer and the seller. Your data is safe, the seller will not receive the money until they finish the order and if something bad happened and the seller didn't do the job, you will get your money back! The payment also can be made using PayPal among other forms as credit cards.
#5 Categories for Products and Services
All services and products are categorized in an easy and awesome way, they categorized everything into different groups such as writing and translation, online marketing, video and animation, etc. Of course, you can dig deeper into those major categories to discover more subcategories. Above all that you can simply search for a certain service or any kind of keywords an example "write a book"( YES, there are people there writing books for anyone). All prices start from $5 and rise depending on the services and the seller experience or level.

Ready to get started with Fiverr? Sign up for free.
Is Fiverr a Scam
So many people around me kept asking me is Fiverr a scam, is Fiverr a legit website to provide such services. Now for the question, is Fiverr a scam, in my opinion Fiverr is a platform that offers such service is not really a scam, in fact, they are trying their best and updating their systems just to protect you and everyone from scammers, but if you ask "are there scammers inside this website", well I never really saw any or heard about scammers out there.
However, there are some inexperienced sellers that claim they have years of experience to give you a certain service, that's why always try to check information like feedback, rating and everything else to make sure the seller is good enough to give you the best service or product.
To answer simply to the question is Fiverr a Scam, I believe Fiverr is just a platform that provides a place for all experienced freelancers to offer the best services to buyers like you and me.  Fiverr can be the answer to the question, Is Fiverr a legit platform to improve your business? Yes, it can be one of the many ways to improve our businesses.
My Opinion and Experience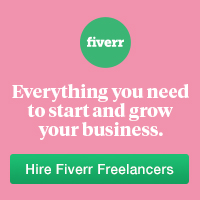 I am not here saying the Fiverr is the best out there which give these services, there are many other competitors that give same services.
My experience with Fiverr until now is just amazing, I met so many awesome sellers, they might not satisfy you 100% but I can say within my experience and the people I met there, they will do anything to give you the best experience and service which is good enough for me.
Don't forget, Fiverr will secure your money until you get the service you want and need 100% if you are not satisfied, simply contact them and they will give you the money back!
I hope At the end of this modest and honest review about Fiverr, The fiverr.com Review, to answer important questions like Is Fiverr a legit platform to improve your business? that everyone got all the information they need or/and want. And I hope you enjoyed reading this review and found what you need for your online journey here. If you have a question about The fiverr.com Review which provides the great services in my opinion and experience or wants to leave your own personal review about Fiverr, leave a comment below. 
Disclaimer:
Please note, this review has been researched with information and/or testimonials that are available online in the public domain as well as my personal experience as a member. Any recommendations and/or conclusions are strictly opinions and may not apply to, or agree with, all persons or situations. See full disclaimer for more info.

This page includes affiliate links. Please be aware we only promote advertising from companies that we feel we can legitimately recommend to our readers. Please see our Affiliate Disclosure for further information.