In this Book Bolt review, we will discuss and introduce the tool Book Bolt. The Book Bolt tool makes your work easier on Amazon KDP (Amazon Kindle Direct Publishing), or we can say that it is a service that helps you increase your sales on Amazon by selling low content and/or no content books.
Without a doubt, Book Bolt has the same interface as Merch Informer, as these two tools have the same creators. The subscription cost is cheap and starts at $10 per month, and when you subscribe, you will get a free trial for three days. Also, you can terminate the subscription at any time, making this tool worth trying. 
Book Bolt's dashboard includes several tools in addition to educational videos to make it easier for you to navigate around the platform. But, before we get to know everything about Book Bolt, we must understand what Amazon KDP is.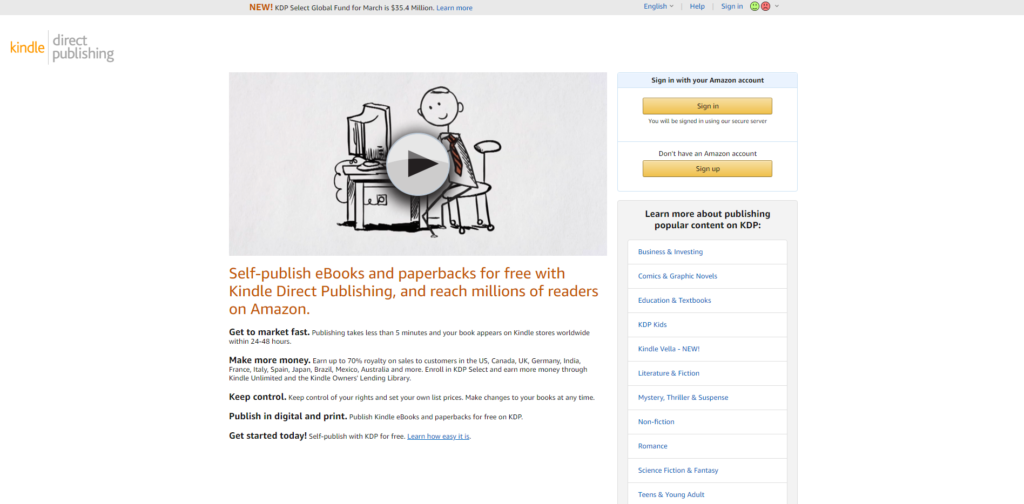 KDP (or Amazon Kindle Direct Publishing) is another platform from Amazon which allows authors and publishers to publish their books to be sold on Amazon. 
Whether it is an e-book (in PDF format only) or paperback form (printed), it often supplies a book with little content, such as coloring books and children's activity books, or books with no content such as covers and lined pages).
There Are 3 Common Varieties Of Books Sellers Publish On This Platform:
Traditional Content Books, Fiction or Non-fiction, meant to be read.
Low Content Books such as calendars, planners, recipes, puzzles, quote books, picture books, etc.
No Content Books with blank pages or lined pages.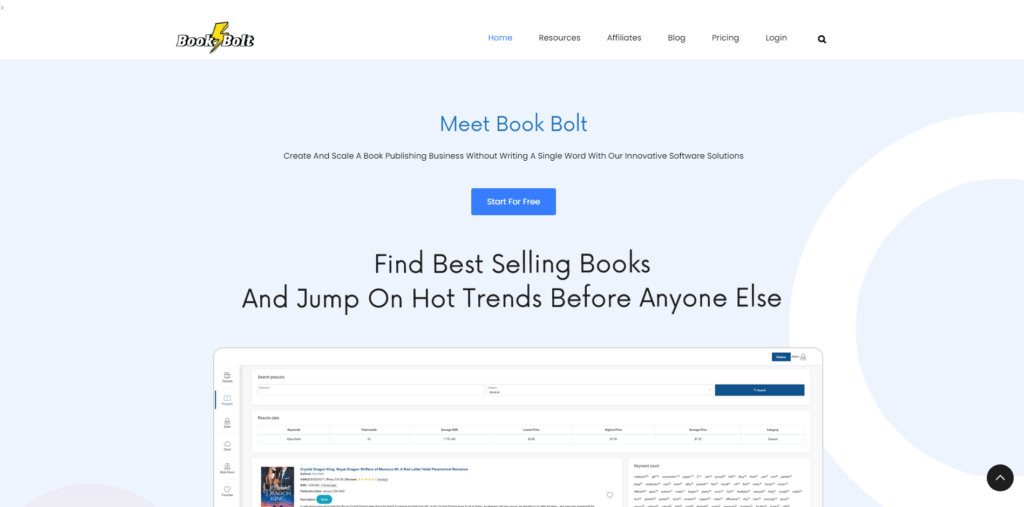 Book Bolt Review – Pros Of Book Bolt
To make our Book Bolt review comprehensive, we need to mention the good part about this tool. The following are the pros of Book Bolt that I found after using this fantastic tool.
You get three free trial days when you subscribe, allowing you to have a decent period to check all of their tools. 
Searching for the most searched keywords, best sellers, successful sellers, classification of your book, and other information helps you choose the products (and niches) you can work on with little competition. 
You can design a book cover and download the internal content easily, and you can find the necessary tools (pictures, shapes, fonts, etc.) in one place.
You can get continuous support every day of the week, around the clock. 
You can spy on profitable books.
The price is affordable if you manage to have a stable income from KDP.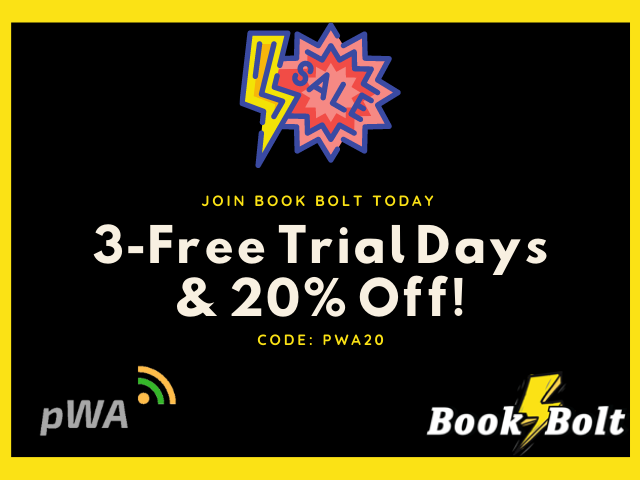 Book Bolt Review – Cons Of Book Bolt
Without a doubt, no tool is perfect. After mentioning some of the pros of Book Bolt, it is time to discuss a few of its cons. Fortunately, I didn't find that many downsides to this tool.
It can be expensive for beginners.
You might need to scale your business by paying for the yearly pro plan to have the Puzzle Creation Software (PuzzleWiz).
The Book Bolt Designer tool can be limited sometimes and might need to use professional tools such as Photoshop.
Book Bolt Control Panel
First, you must register on their site by entering your information as a new user, click Next, then enter your credit card's information, and then Register.
Here, once you enter this application, the control panel appears, which contains many tools, and these tools include Search, which shows the common selling items and the best sellers, and these tools also include the Keyword Tool.
The dashboard also contains several educational videos that teach you how to navigate through the tool and use everything, and this will help you a lot to make more sales.
If your version in Book Bolt is the beginner version, you will enjoy all the advantages of Bok Bolt. Still, unfortunately, you will not enjoy the benefits of the PuzzleWiz tool, which is only for professionals, and this tool is usually used to design children's games.
However, as part of today's Book Bolt review, I want to mention some of the benefits you get once you start using this tool. Let's start by talking about the keywords research tool within Book Bolt.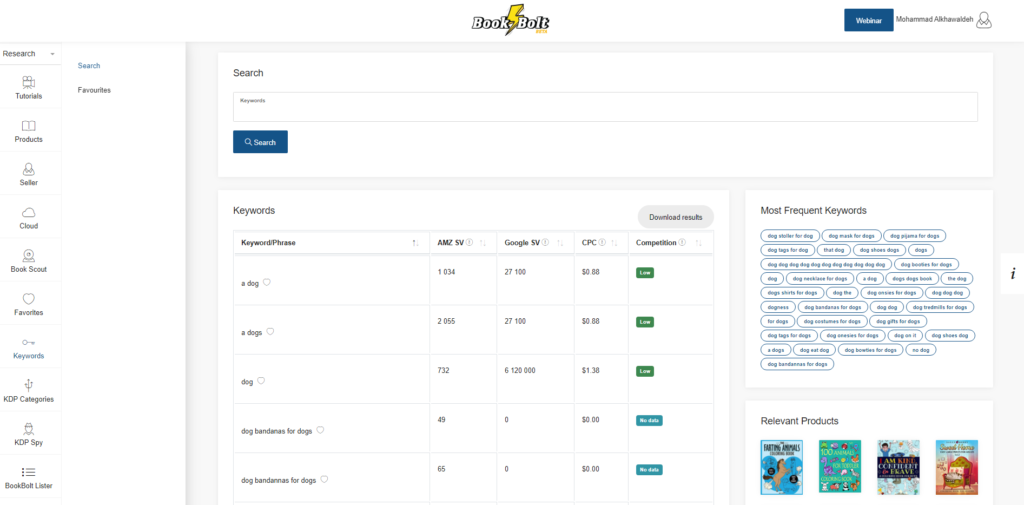 Your designs compete with other big competitors and other booksellers, but one thing more critical that distinguishes you is the keywords you use. The keywords in Book Bolt are divided into three sections: 
Keywords.
Most frequent keywords.  
Relevant products.
Once you have entered your keyword in the search box (on the right), it will bring you the keywords section in the book category on Amazon, and you will get search volume and competition. A keyword is a primary way to discover and sell the various products on Amazon.
How Does Book Bolt Help You Make Money With Low Content Or No Content Books?
Book Bolt has many features that allow you to stand out in the world of low-content or no-content book publishing. It's about three main things: Keyword + Product + Description. 
Book Bolt has keyword search features, low content interior designs, a cover designer, and a price record. It has spy tools to find out what is selling better than others. There is also a cover creator and quick download features.
With all these tools and features within the Book Bolt tool, you can be ahead of your competitors by creating new designs in high demand by Amazon's customers. Therefore, Book Bolt is a tool that makes your job easier and faster, which is the best way to make more money.
Join Book Bolt and use the code "PWA20" to enjoy 20% off.
How To Create A Cover For Amazon KDP?
With Book Bolt, you can create a book cover in less than five minutes. There is a wide range of fonts that you can use in addition to royalty-free images and graphics.
When you turn on Cover Designer, you see a blank canvas with KDP fonts. You have to put a title for your book on the front cover, which is very easy with the Book Bolt tool.
Before designing the cover, you can search for your keyword within Book Bolt Tools to get an idea of ​​the other best-sellers who use texts and graphics on the covers of their books and based on this answer. 
You can design the cover of the book. In the design tool, you take a PNG file, and you can make sure that the book with a uniform color using ColorZilla. Now the format comes in Book Bolt, and this, of course, as you want, is downloaded as a PDF file to be uploaded to the KDP platform. 
Book Bolt can generate interiors in various sizes in a snap. Even better is the number of interiors available. Just looking at the number of interiors makes your mind surprised and makes you work better and faster.
Thus, you can create the best designs for your books to serve your business and fit with these books.
Interior Designs And Amazon KDP Templates
Just as the Book Bolt tool is used to create an external cover for a book, you can also create everything related to writing inside the book, such as the number of pages and the size of the cover, and you can also choose your own template.
Book Bolt tools are much more straightforward than PowerPoint and Google tools in terms of interior design templates. There are empty pages with numbers and pages with lines, and there are interior designs for graph paper, accounting papers, calendars, and more.
I think that Book Bolt is essential and extraordinary, and by Book Bolt Review, I can say that you may not do without it.
After discussing all the information about this marvelous tool in our Book Bolt review, it is time to discuss how to scale your POD business using Book Bolt. We can talk about this tool for days, but it is your turn to use the 3-day trial to check all these tools Book Bolt offers!
Print on demand is an integral part of the e-commerce industry and often can be used for clothes. However, you can accomplish these works through selling books, and Book Bolt is a tool to help you build this business as follows. 
The first step is done through the interior designs provided by Book Bolt, and you can find a multitude of ready-made interiors. This will work with your Print-on-demand catalog, and when you combine Book Bolt's designs with your own, you'll be able to create a high-quality book for publication on Amazon KDP. For example, you see an inner sheet that can be used to serve your request. 
The second step is to go to your Print-on-demand catalog and find designs that fit the inner sheet you've chosen, and now you can see a shirt design that can make an excellent cover for your order. 
Then comes the step to create the inner part of the book, and here you must go to Interior Generator and ted the inner part that you want, the size and number of pages, then click download, and once you click on download, the internal file will be opened in a new tab. You can save it on your computer.  
The last step is to create the cover, and here you go to the Book Bolt Designer and create the cover document. The background color is set, and the image of your T-shirt design is loaded into the template, and a title is added on the front cover, and you must pay attention to the title matches what you mean to write in the title box when publishing your book.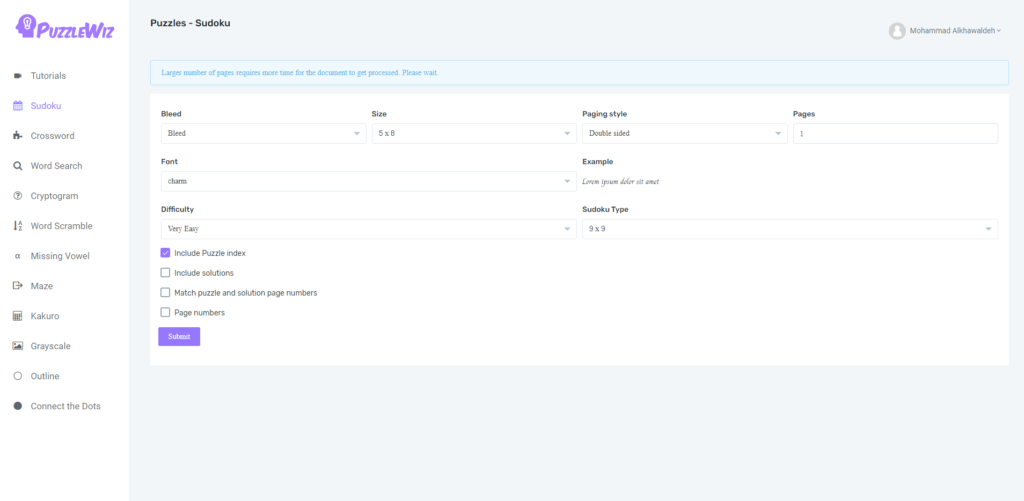 How Can You Identify (Spy On) The Successful Sellers And Writers Using Book Bolt?
The only thing to do is entering the name of the person you want to spy (identify). You will see books sold by this person and their sales on Amazon and their prices. This will let you enter the market with your own unique designs with your low/no content books and take over the market.
After This Book Bolt Review, We Can Mention Book Bolt Main Uses And Accomplishments Using This Tool 
You can sell books through Amazon KDP without any manual work. 
You can do business without taking risks.
You can create high-quality books and print them on demand. 
With the spy feature, you can search for KDP bestselling books on Amazon and make the right decision before publishing low-content books. 
You can create beautiful covers quickly and easily with Book Bolt Cover Designer.  
You can discover profitable niches. 
With Book Bolt Lister, you can quickly get your products to start making sales while saving as much as possible on book listings on KDP.
Book Bolt Lister helps in downloading many types of designs for books. You can also identify books through a hotkey to quickly and high-quality specifying the particular keywords, titles, and descriptions.
Book Bolt Review – Is It Worth It?
You can upgrade your plan if you wish; this is flexible as you will most definitely need the pro plan to scale your business at some point. All you have to do is go to your account settings and select the plan you want to upgrade to.                                                                                                            
Also, using Book Bolt (You can register here and use the code "PWA20" to enjoy 20% off) does not require access to your KDP account because Book Bolt is a software package used to help you search and produce books with higher sales for your KDP account. 
You can also cancel your subscription at any time until the end of the billing time, making this tool easy to try. Yes, Book Bolt is worth it. Also, as we discussed in this Book Bolt review, you can imagine all these benefits you get from this tool that is not possible without it and how it can improve your business.
Disclaimer:
Please note, this review has been researched with information and/or testimonials that are available online in the public domain as well as my personal experience as a member. Any recommendations and/or conclusions are strictly opinions and may not apply to, or agree with, all persons or situations. See full disclaimer for more info.

This page includes affiliate links. Please be aware we only promote advertising from companies that we feel we can legitimately recommend to our readers. Please see our Affiliate Disclosure for further information.