As an Etsy seller, knowing how to open an Etsy shop was my first step for success. Therefore, knowing the right steps to do so is as important as working on this fantastic platform. Thus, in today's article, you will find your step-by-step guide on how to open an Etsy shop.
Thanks to our technology, trade has found its new way to shine, as a seller, e-commerce should be your next destination, sites like Etsy offer a friendly environment that gives you an easy way to sell your stuff online.
However, before engaging in the selling process there, you need to make sure that you know how to open an Etsy shop. If not, grab a cup of coffee and enjoy your 10-minute reading, while we take you to a step-by-step tutorial.

Before getting into all the details of how to open an Etsy shop, it is mandatory to know what Etsy is and what you could sell on it. Etsy is an online e-commerce community specialized in hand-crafted or vintage goods. It offers a wide range of categories, including clothing, furniture, bags, toys, art, jewelry and, home décor. 
The site acts as a medium between sellers and buyers, where it helps the first listing their goods by providing personal storefronts and ensures that the last find what suitable to them, and in exchange, the site takes a 0.20 USD fee per item for its services.
Why Etsy?
Customization. Affordability. 

Easy-to-use. 

Market Specificity. 

Effectiveness in Reaching Customers. 
Your Step-By-Step Guide On How To Open An Etsy Shop
We will walk you through the whole process in a detailed way, from opening your shop, adding your listings, setting up billing, and finally opening the shop.
However, If you don't have enough time in handy, you can check out our summarized guide of How To Open An Etsy Shop at the end of the article if you would love to take the detailed way, stay tuned and follow up.
Step Zero: Before Creating Your Shop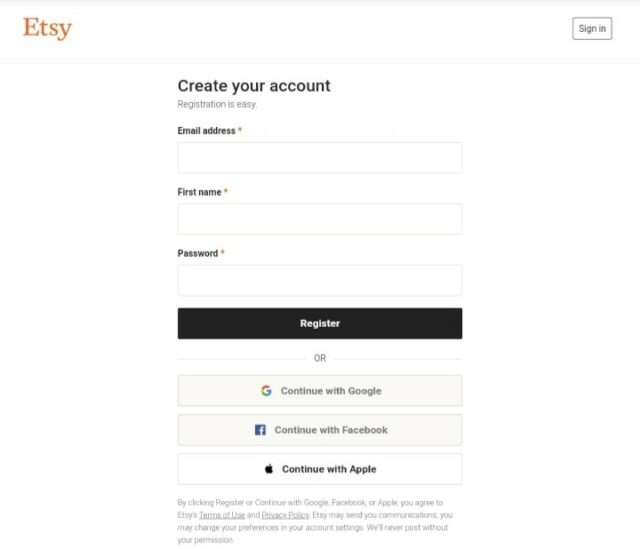 The first thing you need to do in our step-by-step guide to how to open an Etsy shop is to signup for an Etsy account; if you are already familiar with Etsy, as a buyer, you can go ahead and skip this process.
Visit 

Etsy.com. 

At the top of the site, you will find 

Register

, Click on it. 

After being successfully directed to the signup page, you will be given a forum that contains the necessary information, like email, password, etc. make sure to fill it out properly. 

Once done you will receive a verification message on the email you have previously provided, go back to your email page and click on the verification link to confirm your account (you need to make sure that message hasn't ended up in your spam or junk mail folder by checking these two).
Step One: Starting Your Etsy Shop
After successfully signed up, you need to sign in to your new account by visiting Etsy.com. Then you need to fill out your login details and click sign in.
Once the login has been completed, click on Sell on Etsy, or simply visit it from here. Then after that, click on Open your Etsy Shop. And follow us as we dig deeper into how to open an Etsy shop.
Step Two: Set Your Preferences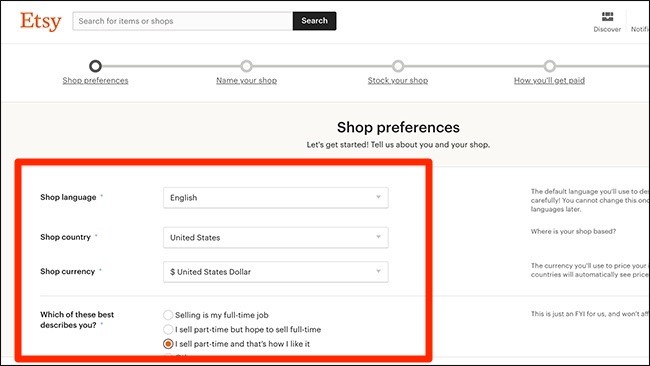 The site asks for four preferences to be specified before opening your shop, which is being used by Etsy to set you up with the market suitable for you. These preferences are Country, Currency, Language, and Time Commitment.
Shop County

: It is the current country for your shop, make sure to specify it correctly in order to get buyers from your area. 

Shop Currency

: It is the currency by which your listings will be priced, make sure to choose your market currency. 

Shop Language

: This is your default language for which the shop will use to describe your items, make sure to choose this carefully, cause you won't be able to change it once have been selected, although, if you would like to add translations from other languages that can be easily done once you opened you shop. 

Time Commitment

: This part is for informational purposes only, and will have zero effects on your targeted market. Here you will be asked to choose whether you are selling full-time or on your part-time job, choose your preferred answer.
Step Three: Choose Your Etsy Shop Name
Your shop name is your own brand, and it must be unique, stylish, and memorable, a name that reflects on your style, services, and what you provide to the market. 
However, there are requirements set by Etsy for the shop names, and you need to make sure that yours meet all of these requirements, which are:
4-20 letters in length.

No spaces or special characters (Like @#&).

No profanity.

The name shouldn't in any way infringe on another's trademark.

Your Etsy shop name must be new, or not already in use by another user.
If the name you choose is already in use, Etsy will display you a list of suggested names, feel free to choose from them what suits you, or reconsider a new name of your own. If you have troubles or difficulties choosing a brand name, don't worry, we are here to help.
Our Tips for Your Etsy Shop Name
Short

: make sure that your name length ranges from a 3 letters word to two words top, although one word is preferred. 

Easy To Remember

: no one likes a difficult name, a name which they probably have a hard time just remembering it, so, try to choose an easy name, easy to say, and easy to remember. 

Descriptive names

: 

 

These are the names that give the buyer the hype and expected reward of buying your products, they are very effective names, and they have proven to provide tremendous results. 

Go with an abstract name

: These ones are unique

, 

strange names that provide you with the flexibility you need to stretch your idea. 

You might just go with your name

: It's not a fancy way to go, but its also not a bad one too, your own name might as well be your shop identity, or you can just choose your nickname, it's also a more preferable way to go.
Step Four: Fill Up Your Shop
We have begun the final steps of our thorough guide on how to open an Etsy shop journey if you are following thoroughly till now, congratulations! 
You are a few steps away from launching your shop. You need now to add your product listing in this step, and you can do that by following these simple 8 steps.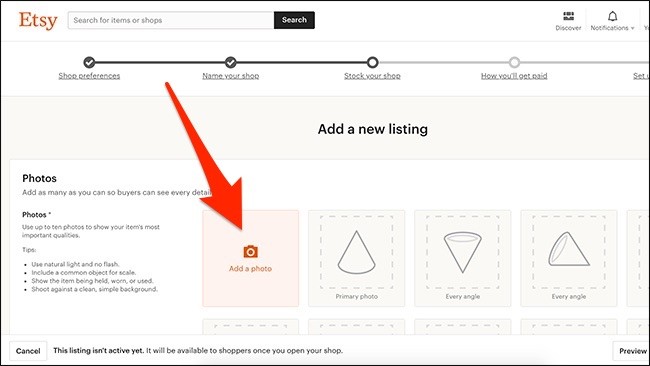 Choose an image for your thumbnail. 

Add

 

details about your listings.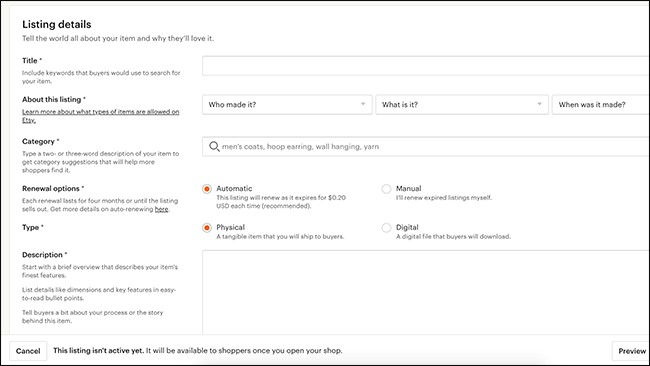 Briefly, and in your own way, describe your listing.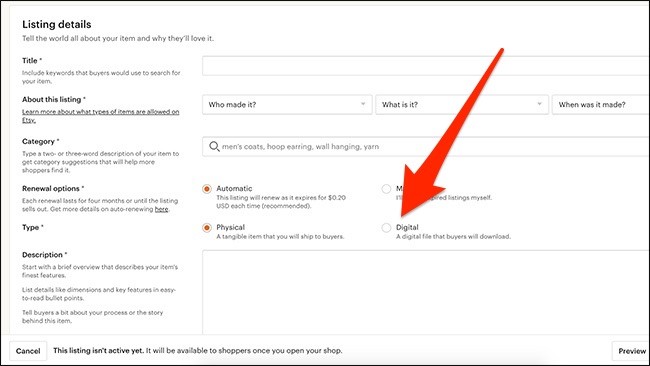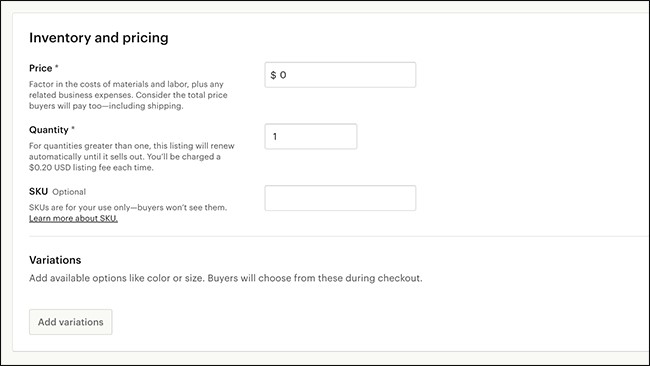 Add files (For Digital Items Like Art Only).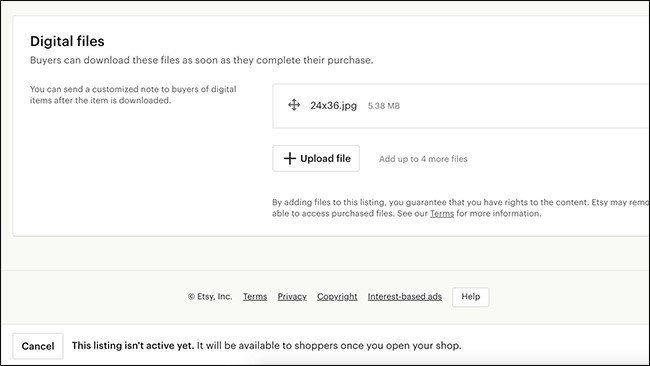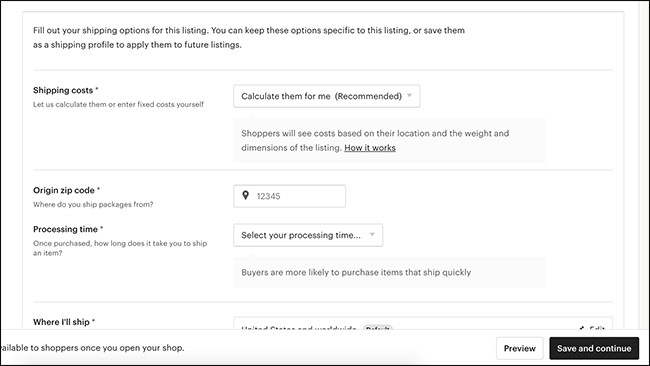 Publish or save your listing as a draft.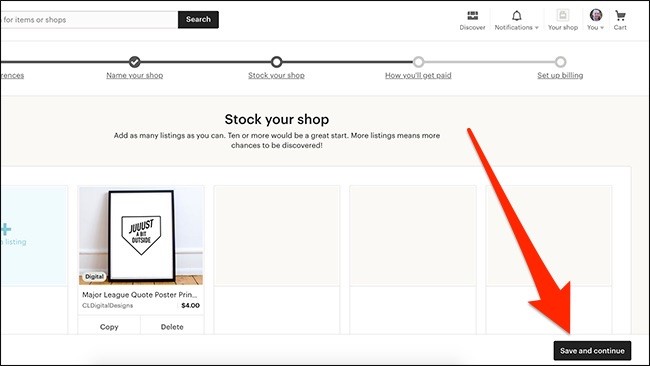 Step Five: Choose Your Preferred Payment Method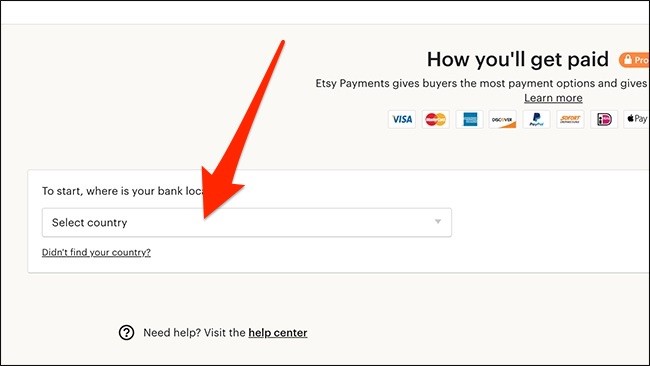 This is a significant and critical step. What you are doing here is simply choosing the payment method you want to offer your customers in your shop. By other means, this is how you want your customers to pay you for the stuff they purchase.
Etsy provides what is called a payment account (Etsy Payment) that allows buyers to pay for whatever item they choose in many options through one account. Then all the money is transferred to your own Etsy payment account. 
However, this feature isn't available worldwide; if you are in a country that doesn't allow this feature, you may as well choose one of the following replacement methods to be used by your customers (it's important to note that these ways apply to you and the buyers as well so sure what's suitable for you):
PayPal

: This goes without mentioning. It's globally the number one payment method available and will be ideal to you and many, if not all (This is our recommended method). 

Check Or Money Order

: This is for services that need to be mailed. 

Other

: This is a payment method chosen by you to describe how you want to get paid precisely. 
Step Six: Time For Billing
This step is for choosing how you will pay Etsy it's fees, this step is country-dependent, in order to open your shop you may need to enter a card, this card should be:
American Express. 

Master Card. 

Visa. 

Carte Blue ( France ). 

Discover. 
Step Seven: Open Your Shop
After going through all the steps successfully, you can now simply click on Open Your Shop to open it. And of course, you can always go back and make some changes if you would like to. 
And this is it, just like that simple we have concluded our guide to how to open an Etsy shop, now let's take a quick revision.
Our Summarized Guide On How Open An Etsy Shop
Register on 

Etsy.com

.

Click One Open Your Shop.

Select Your Shop Preferences ( Language, Country, Currency, Time Commitment )

Choose A Memorable Name.

Add Product Listings To Your Shop.

Choose A Suitable Payment Method.

Enter Your Credit Card.
Wrapping Up
E-commerce business is growing dramatically over time, and if you are a seller that running a traditional shop, then here is a harsh truth for you, you are in the wrong business. 
Over the last decade, traditional shops have been tremendously decreasing in number, and like smartphones, computers, and the internet been available worldwide and growing quickly, so is E-commerce. 
Etsy is one of the best sites for you if you are looking for a place to sell your vintage goods, and it can surely open new opportunities ahead of you to more success in the shopping business. 
And after successfully learning how to open an Etsy shop, there is nothing to wait for as you can start your journey to e-commerce success right now.
You'll Also Love These Posts:

Studies have shown if you like this blog article — you will also love the following posts.