Elementor Pro VS Divi, Mmm sounds exciting! Which one should I choose? It's not that simple! As someone who wants to build his/her WordPress site, there are plenty of criteria to put in mind before making a purchasing decision.
Both Elementor Pro and Divi are big names when it comes to building a solid fully-functioning WordPress site for both organization-purpose or your personal use. Yet, no one wants to waste his/her money on something when there is another praiseworthy more-capably option available. That sounds rational enough.
Many people have called out for an Elementor Pro VS Divi one-on-one confrontation, and this article has responded with a comprehensive yet enjoyable pre-purchase piece of reading.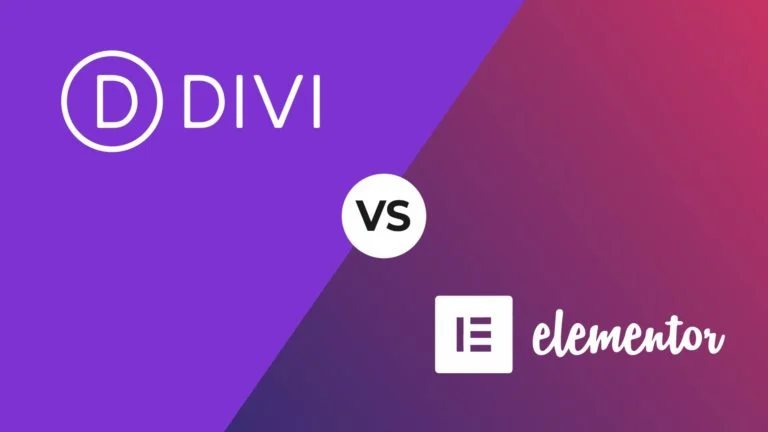 As someone reading about Elementor Pro VS Divi, why not take time-off and ask yourself: why am I succumbing to pricey internet tools? Why not build my website?
As a matter of fact, there are a lot of good reasons, why not?
Your entry-level HTML/CSS skills you learned two weeks ago from YouTube won't build a solid visitors-ready website. 
Just as front-end coding skills, designing isn't a cup of tea you drink in the afternoon (not unless you wanted bad-appealing to be the reasons your customers migrate-sites for).
SEO knowledgebase is 24/7 changing. Only a top-quality tool that's Google-knowledgeable can ensure well SEO-backed websites. 
Even if you were knowledgeable enough in all these areas, the amount of time it drinks could weigh the monthly cost internet tools ask for.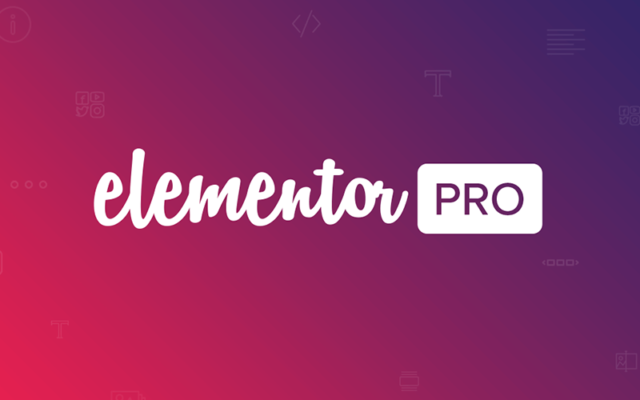 Elementor Pro: Pros And Cons
Easy to Use. 
No coding experience is required. 
Visitor-friendly Templates. 
Documentations To Help You Learn about Elementor Pro. 
Easy To Update. 
The support is great! 
You can easily upload templates to be re-used on Elementor Pro.
Elementor Pro Disadvantages:
You might find some difficulties to check if your recently-made WordPress website is mobile-friendly or not (see Elementor Pro VS Divi: page builder for more info on that). 
Some users have complained that parts of the Elementor Pro builder might become glitchy or freeze at times. 
At times, users might face trouble with the compatibility of WordPress themes. 
It can be difficult at times to identify elements with margins. 
It would be good to have more options for designing types. 
Sometimes, mobile/tablet-view might not be 100% accurate. 
It needs to offer more integrations with WordPress plugins and tools.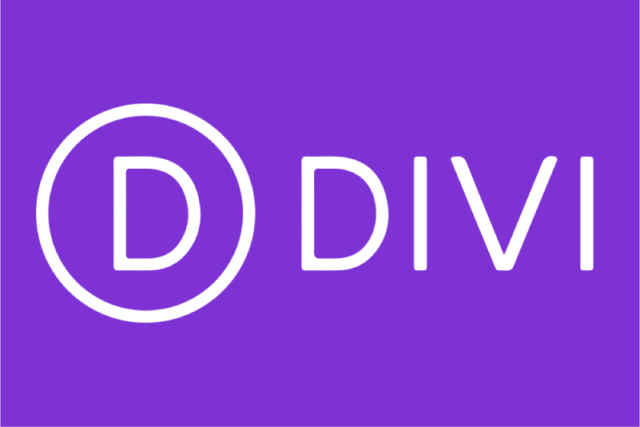 Divi: Pros And Cons
Divi Advantages:
You can start with zero designing experience. 
Quick updates. 
Many useful how-to tutorials. 
Functions great on split testing (A/B testing) mode.
Supports more than 30 languages. 
Made layouts plus customization options. 
The drag and drop visual builder does things at a fast rate. 
Divi Disadvantages:
It might require a learning ladder, especially for the starter. 
When building long pages, you might face some difficulties and glitches. 
There is no popup builder on Divi. 
Without entry-level skills in HTML and CSS, you will not have 100% freedom when editing themes. 
Due to Divi's many customization options, non-designers can easily mix things up and mess with the website's appeal without even knowing. 
It's good at designing but not very handy when it comes to marketing. 
Their social media options are somehow outdated, and you might need to add social networks manually (for instance, in the social media tap, you can find Google+, which isn't operating anymore!).
Elementor Pro VS Divi: Pricing
This Elementor Pro VS Divi comparison starts by answering: Who can bring me more value with the less money?
At first: let's mention the similarities in the pricing area.
Both do offer a 30-days no-questions-asked 100% guaranteed refund. 
Both generously provide a trial-period for the user to check for incompetence. 
Both give the user the ability to access all themes regardless of the plan that he/she is subscribed to.
Both request payments annually. 
Both do offer the same privileges across all plans.
Now, let's dig deep with more details into the differences. 
First: Elementor Pro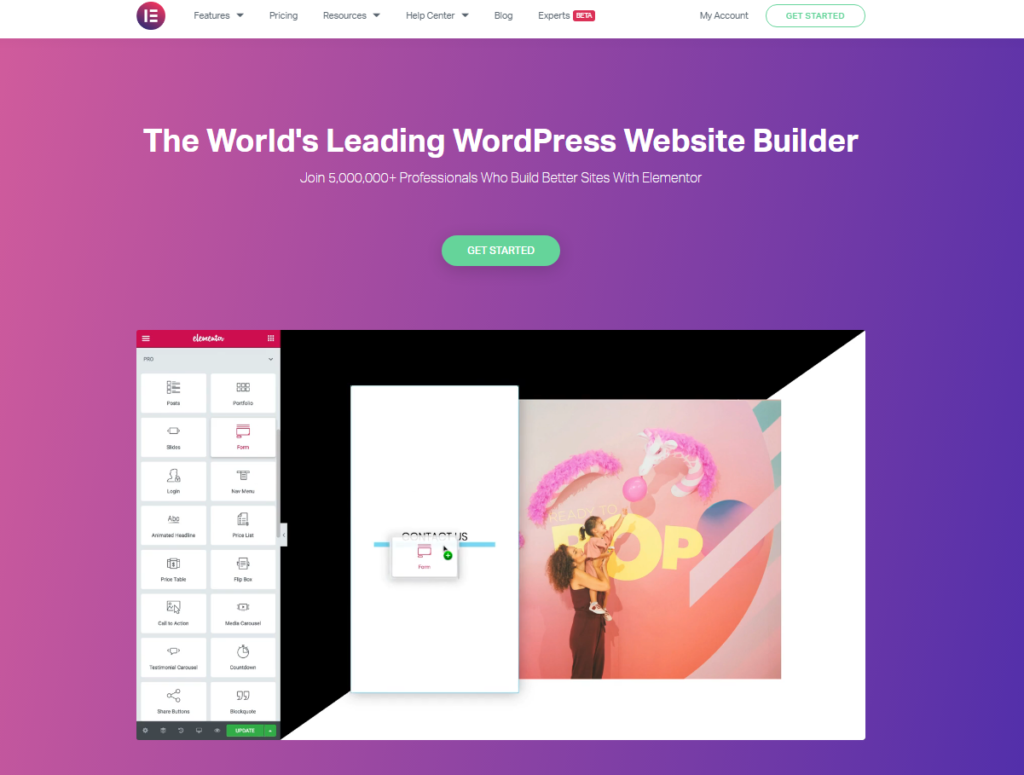 The 4-year-old all-in-one website builder tool does its best to ease WordPress site-building for the starter, regular, and oldies.
All Elementor Pro plans are similar in that they all make offers:
More than 50 pro-level widgets.
Over 300 pro templates. 
Themes, Woocommerce, and pop-up builders. 
Support for one-year post-purchase. 
Updates for 24 months from the purchasing date. 
They only differ in the number of sites in which you can build.
Elementor Pro Personal plan allows you to build one website for about $47 a month. This is a startup-friendly plan. 
Elementor Pro Plus plan allows you to build up to three WordPress websites for $99 a month. This works well for sites expecting to have a decent amount of traffic once being Elementor Pro-built. 
For websites expecting to be traffic-crowded 24/7, Elementor Pro does offer a $199 yearly paid Business plan that gives you the ability to add up to 1000 websites (basically unlimited!).
Elementor Pro has a one month trial period.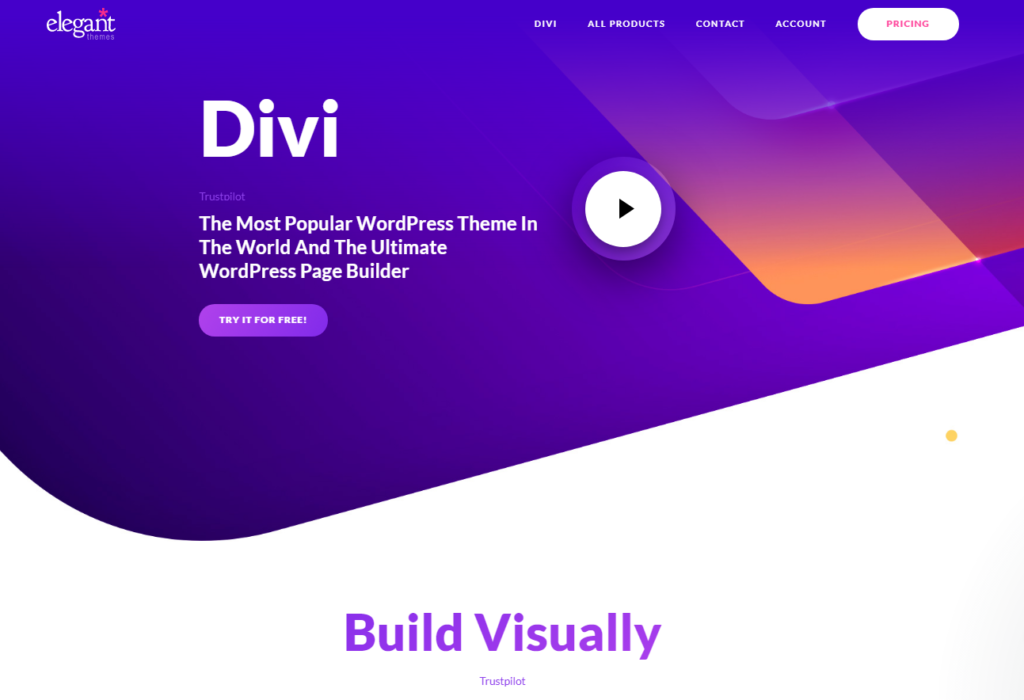 The twelve-year-old San-Francisco-based internet helper differs from Elementor pro in the pricing area in that:
Divi has only two pricing plans. 
Divi has a lifetime plan for $249.
Divi allows you to have unlimited websites.
Divi's trial period is only two weeks long.
Conclusion:
Budget-Friendly: Divi. 
Value of Money: Divi. 
Refund Offers: Tied. 
Trial Period: Elementor Pro. 
Final Winner: Divi. 
Rating: 4.1 out of 5.0.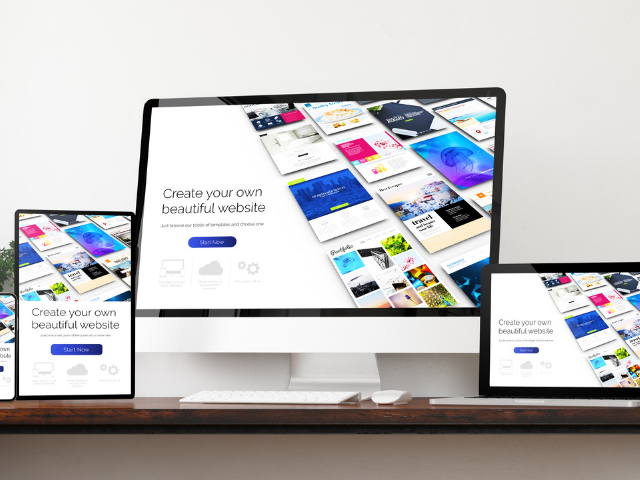 Elementor Pro VS Divi: Page Builder & Ease Of Use
Since comfort in use and speedy results are what the user expects when trying out a website building tool, it is vital to check out which one is most easy to use and most reliable.
Both Internet Tools Have:
Beginner-Friendly Nature. 
Drag and Drop Speedy Visual Builder.
Both support In-Line text editing.
Both require neither coding nor designing knowledge.
Divi
Divi's problem is that although it comes with a beginner-friendly structure, it might require a steep learning curve for the user to become flexible enough.
With Divi, separating heading text from paragraph text might be a little bit confusing at times since they are both edited from the same window.
Divi does allow you to edit each element, section, and part of your web page by simply pressing on the plus button in the middle of that element.
You can also work on the plane mode by pressing on the little gear that automatically pops up a window for you to do your editing work. It's not something complain-worthy, yet, it was better if that gear was fixed-place since dragging it from one corner to another might not be quite efficient.
Divi gets an extra point since it allows you to define your margin space simply by dragging your element down (in Elementor Pro, you will need to go to advanced tap and help yourself manually from there).
Elementor Pro
Elementor Pro, on the other hand, has a tap called extra add-ons with ready forums that can ease and speed-up your experience. For instance, Elementor Pro has opt-in, login, and contact pages on the pilot mode ready for you to pick up and use.
It also does have pricing tables, countdown forums, share buttons, reviews, media carousel, feedback button, and up to nearly 30 different templates and extensions that can make your Elementor Pro experience much easier and price/time-worthy.
Elementor Pro also has a sidebar that contains all that you need to edit your web page more easily.
Conclusion:
Speedy Access When Editing: Elementor Pro. 
In-Line Text Editing: Tied. 
Beginner Friendly: Tied. 
Learning Ladder: Elementor Pro. 
Ready-Forums: Elementor Pro. 
Final Winner: Elementor Pro. 
Rating: 4.3 out of 5.0.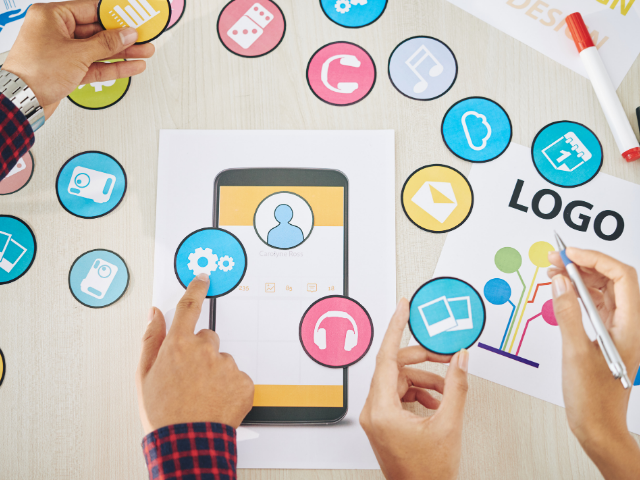 Elementor Pro VS Divi: A/B Testing
Unlike other comparison pinpoints in this Elementor Pro VS Divi head to head match, you might want to skip on this one if you weren't planning on building a landing/funnel page anytime soon since that's where you will need A/B testing the most.
Divi
Divi has a built-in A/B/n (i.e., unlimited layouts testing) testing functionality that kind of look similar to the one that exists on CliclFunnels cookbook funnel page editor except for the fact that this one does allow you to check out more than just two layouts.
You can do A/B testing for images, headlines, buttons, etc.
Elementor Pro
Unfortunately, Elementor Pro doesn't have a built-in A/B testing like Divi. If you get stuck building your funnel/landing page with Elementor Pro, you have two options here.
Option A: Switch page builders to one that's designed specifically for dealing with funnel pages (ClickFunnels might be a good choice here).
Option B: Try one of the third-party solutions present on the WordPress marketplace to do your A/B testing with Elementor Pro.
On the WordPress store, there is a tool called Split Test For Elementor that can be a pretty good option. Nevertheless, it doesn't match the accuracy and quality of that present in Divi.
Conclusion:
Built-in A/B Testing: Divi. 
Multiple (More Than Two) Testing: Divi. 
Simple Comparison: Divi. 
Final Winner: Divi. 
Rating: 3.9 out of 5.0.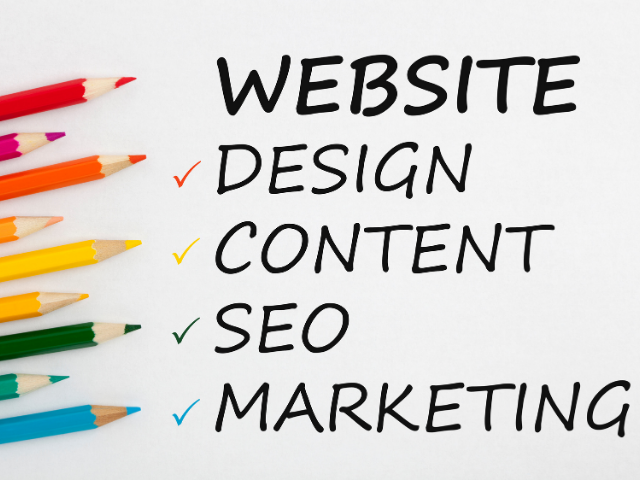 Elementor Pro VS Divi: Templates
Elementor Pro has plenty of templates to use for your new WordPress website. It does have homepage templates, landing pages templates, restaurant templates, contact layouts, and "about page" designs, among many others.
Many templates are free, some might cost a few dollars, while you need to pay a decent chunk of a buck to decorate your website with some of the pro-leveled layouts in Elementor Pro.
Both the free and paid templates do come with decent quality and nice shape. Yet, of course, one eyeball doesn't necessarily like what the other sees as perfection!
Divi has over 900+ layouts scattered around all different criteria and categories of WordPress websites the user might have in mind.
Divi has more than 400 free layouts, and they are putting in new ones each week, so the number might significantly skyrocketing if you were a late catcher to this Elementor Pro VS Divi party.
Divi layouts are designed by experts even if their price tag beg to disagree. Again, without seeing things from your perspective, it's hard to pick up a winner.
Nevertheless, this blog post crowns Divi when it comes to layouts' since they were genuinely built to match different sets of personalities that give the WordPress owner more than just A or B situations when he/she browse for an outfit for the newly born website.
Add to that, Divi has more free layouts and can give you a diversified well-designed basket of paid layouts to choose from with even a budget of as little as $100. There are some $5 pretty good Divi templates as well!
Conclusion:
The Quality Of Templates: Tied. 
Personality Touch: Divi. 
The Number Of Free Layouts: Divi. 
Price Tag For Paid Layouts: Divi. 
Number Of Layouts Per Category: Elementor Pro. 
Final Winner: Divi. 
Rating: 4.9 out of 5.0.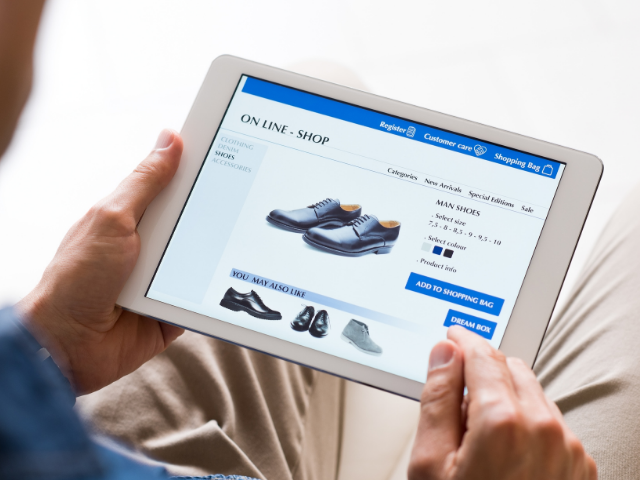 Elementor Pro VS Divi: Marketplace (eCommerce Shop)
This doesn't call for a pause; Elementor Pro is a way ahead here. But first, what do we mean by the marketplace? These are the 3rd party WordPress plugins that you can find on wordpress.org.
They ease the user experience and give better access to more features. Unlike Elegant Themes (Divi's head company), Elementor does have a free version for those who don't want to use Elementor Pro.
Elementor free version gave third-party developers the freedom and flexibility they need to create more extensions, unlike Divi.
Popular Elementor Pro plugins, add-ons, and themes include:
Happy add-ons for Elementor. 
Elementor kit Elementor add-ons. 
Metform Elementor addon. 
Hello Elementor theme.
AnyWhere Elementor plugin.
Famous Divi Themes and Plugins Include:
Supreme modules lite. 
Battlesuit for Divi. 
Before + after images for Divi. 
Divi Enhancer. 
QuadMenu.
Conclusion:
Abundance Of WordPress Extensions: Elementor Pro. 
Quality Of WordPress Extensions: Tied. 
Diversity In WordPress Extensions: Elementor Pro. 
Final Winner: Elementor Pro. 
Rating: 4.4 out of 5.0.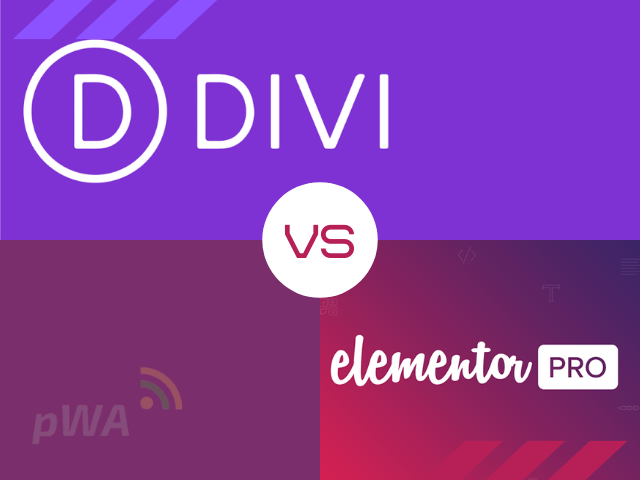 We're Not Done Yet!
Elementor Pro VS Divi match has ended, and the viewer must expect a winner. After all, that's why you had to go through all this. Let's summarize up, Elementor Pro excels at pricing, extensions, tools, and third-party plugins, while Divi does a great job at providing eye-friendly templates, have a built-in A/B testing functionality, and its page builder is quite better than that of Elementor Pro in many criteria.
So, should we go ahead with this and give the crown to Divi? Not quite yet!
Let's forget who wins in the above criteria and look at the criteria better to understand this Elementor Pro VS Divi battle's nature.
Pricing: since you will mostly look to host your website for a long-term period, pricing can be the most vital part of this Elementor Pro VS Divi comparison. So, let's give it 5 crowns.
Page Builder: since both use the same drag and drop technique and both support non-technical website owners, the difference here might not be as crucial. Let's give it 1 crown.
Templates: if it can hook the eye, your website can properly lead to conversions. That's 4 crowns for templates.
A/B Testing: it's good to work with A/B testing, yet, like mentioned before, it will only be helpful when working with funnel pages (and for such purpose, you might want to consider internet tools designed specifically for building funnel pages like ClickFunnels). So, let's give it ½ crown.
Marketplace: when working with WordPress, you might never know what you might need in any second to support your page, third-party extensions can be crucial to some, and some might not even look for it. Let's give it 3 crowns.
Elementor Pro: 4 crowns.
Divi: 9 ½ crowns.
DIVI WINS!