Elegant Themes Review
Check Pricing
Pros
A powerful page builder tool.
Extra and Divi are unique themes.
Monarch and Bloom bring smooth, flexible user experience and performance.
The theme options panel and the customizer sections work great.
Offers superb value purchase options with its lifetime membership plan
Great support system and team members
Cons
It might take a long time to master the page builder.
Overwhelming creative potential, making it hard for new beginners.
Some users complain about slow customer service
We have been getting a lot of requests lately for an Elegant Themes review. So, without further a due, we give you our very own unbiased review. We will take an in-depth look at their product, analyze it bit by bit, and give you some points to look out for. Hopefully, this will help you decide whether the Elegant Themes subscription worth your money or not.
Name: Elegant Themes
Owner: Nick Roach
Pricing Options: Yearly Membership: $89/year. Lifetime Membership: $249. 30-Day Money-Back Guaranteed
Overall: 4.85 out of 5.0
Reputation: 4.9 out of 5.0
User-Friendliness: 4.9 out of 5.0
Price: 4.8 out of 5.0
Help And Support: 4.6 out of 5.0
Effectiveness: 4.8 out of 5.0
Features: 4.9 out of 5.0
Options Panel: 4.9 out of 5.0
Security: 4.8 out of 5.0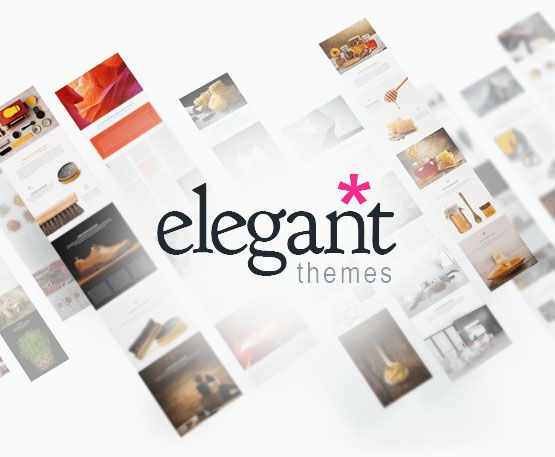 But first, a brief history of this exquisite company. It all started in 2008, nearly 12 years ago. In a small college apartment, Nick Roach – founder and CEO of Elegant Themes – was slowly building the fascinating company in WordPress themes. His one-person startup, hard work, and struggle, today Elegant Themes company, is one of the best, if not the best WordPress themes and plugins service provider out there in the market.
To this date and while writing the Elegant Themes review, the company has served more than 700k eager costumers and still counting, with nearly 110 passionate expert team members from across 22 different countries. Indeed this company embraces diversity as its core principle.
Before the present time, Elegant Themes presented the developed market more than 87 themes for WordPress under their membership subscription. However, Elegant Thames's primary focus right now is on its two main themes, Extra and Divi. You have all the access to the company's older themes. But keep in mind that these old free themes now look quite simple and outdated.
They might also be withdrawn soon, so they should be considered when deciding to join in or subscribe to the company's provided membership services. Once you visit their website, you greeted and stricken with their elegant, subtle, and fluid designed themes and plugins.
And this where we come in, with our Elegant Themes review, let's get started with this website builder features.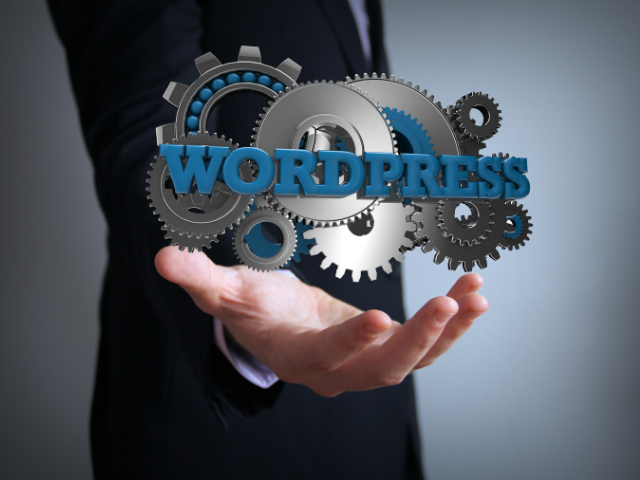 In our Elegant Themes review, as said earlier, we will delve deep inside the Elegant Themes membership subscription and show our readers what features this sub offers.
Frankly, Elegant Themes offers a broad range of magnificent templates and features, making it hard for us to do it justice in a single article and cover all these great features. So we will try our best to highlight the very best features out there in the subscription. With that said, let's check out some of the essential features in Elegant Themes.
#1 Flexible, Well-built Responsive Design.
Having a responsive website is crucial to user experience and comfort, and this one of Elegant Themes' primary selling point. By implementing CSS media queries and many other modern or revolutionary developed techniques, they achieved a great product not just responsive but flexible and stable as well.
This ensures that your website will offer good user experience and look great at all screen sizes & resolutions.
#2 Looks Good On Mobile Devices.
While having a responsive website is crucial to desktop user experience, what about the mobile user or reader? If you were wondering about this question, don't worry, Elegant Themes have you covered.
One of the fundamental reasons to use a premium WordPress theme is the mobile user experience. Especially that more and more people are distancing themselves from their desktop and isolating it for work, making some room for them to enjoy reading articles on tablets and mobiles.
According to some statistics, more than 60% of users use smartphones, and by the end of this year 2020, there will be more than 6.2 billion people worldwide will own a smartphone mobile device.
With that in mind, Elegant Themes provide a good, solid, and flexible mobile user experience and look elegant on mobile.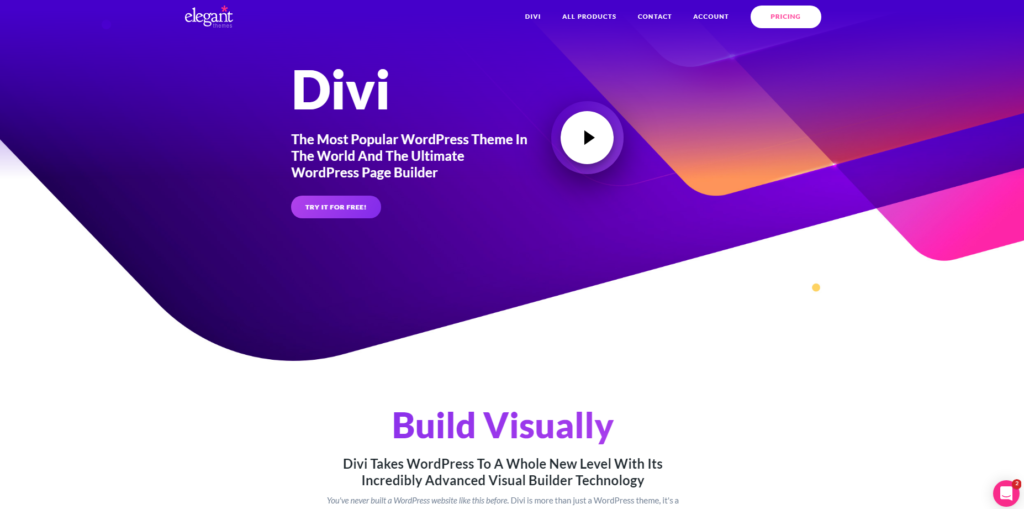 #3 Extensive Customization Options.
Elegant Themes present the member with various options that aid in managing your website. These options give you the ability to fine-tune your websites' intricate elements, from the basics like color all the way to SEO tuning.
These control settings can be basic and simple to use in some cases, while others need some knowledge to fine-tune. So, here are some of these settings.
As the name points out, this tab or feature provides general basic options for your website, starting with your website logo, color palette, unique icons like social media icons, time and date, etc.
Also, you separate section to your liking, for example, making a section for social media links, or you can implement some custom CSS according to your needs.
Navigation And Maneuvering.
In this feature, you are granted some functions to help make your website work seamless and more fluid, by giving you or enabling to turn on drop-down menus or drop-down tiers, categories or subcategories from the menu, specific pages, etc. Basically, it helps you sort things out within your website.
This feature allows you to show and hide, for example, comments section or comments, author name, categories, the date for each blog post, or the website's entirety, giving you more control over your comment section for blog posts.
As the name suggests, this feature or tab gives you the ability to control Ads, you can designate an area or section for each post, placing the ad URL and image, or you can use the Ad-sense code for fill that section or area, just to make it easy on yourself.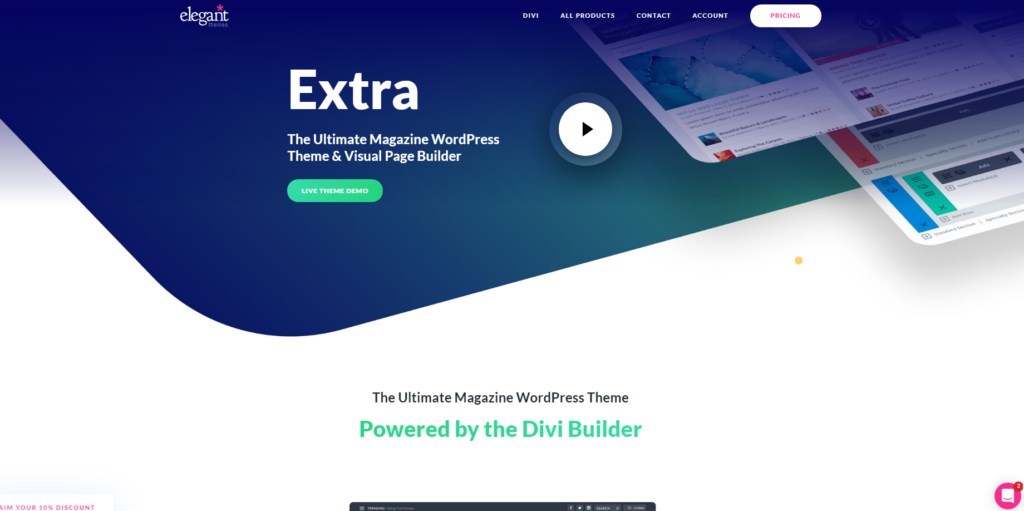 One of the best basic options this membership service provides is color; it allows users to personalize their website to their liking. Each part or section of the theme can be colored differently according to the users' preference.
Of Course, we all know about SEO and its importance for bloggers and websites; generally, this helps you get more traction to your website.
In this feature or tab, you will be able to enable a lot of SEO options for the single post, index page, or homepage. Here are some of these SEO options, enable Meta Keywords or Meta Description, enable custom Title and canonical URL's, etc. These options help you optimize and tune your SEO.
This section or feature allows you to implement some of your custom CSS Codes to add your own flavor to your website. For example, you can add custom code to the website's body, top, or bottom for each blog post. You can also add custom code for the header of your website.
#4 Elegant Themes' Support And Community Forum.
Occasionally, we run into a problem, and like most users out there, we panic and go surf the net and google everything to fix our problem. While you might find some useful answers on the internet, you can always just ask Elegant Themes for advice. Luckily, Elegant Themes have a support forum to help you out if you get stuck or run into any problem while using their service.
This forum consists of multi-talented people with a friendly attitude, ready to give guidance if asked. We really appreciate their helpful, altruistic, and friendly behavior. This is all thanks to Nick Roach's leadership and Elegant Themes outstanding team members.
#5 Website's Security And Safety.
One of the most critical subject users might consider before subscribing to any WordPress theme service out there. Thankfully, Elegant Themes have expert team members or developers who are really talented in secure coding so that you can rest assured. We are glad to say, while we were preparing our Elegant Themes review, we noticed that their claim of having adequate, reliable security is not just a direct claim, but it was actually genuine to our surprise.
As we discovered, it seems like their developers always conducting strict assessments and intensive audits to all their available plugins and themes by using one of the world's best security companies out there, Sucuri.
As we mentioned earlier, these intensive assessments gave a seal of approval by Sucuri after completing the audit. This, by no doubt, makes people subscribe to their service with 100% trust and confidence.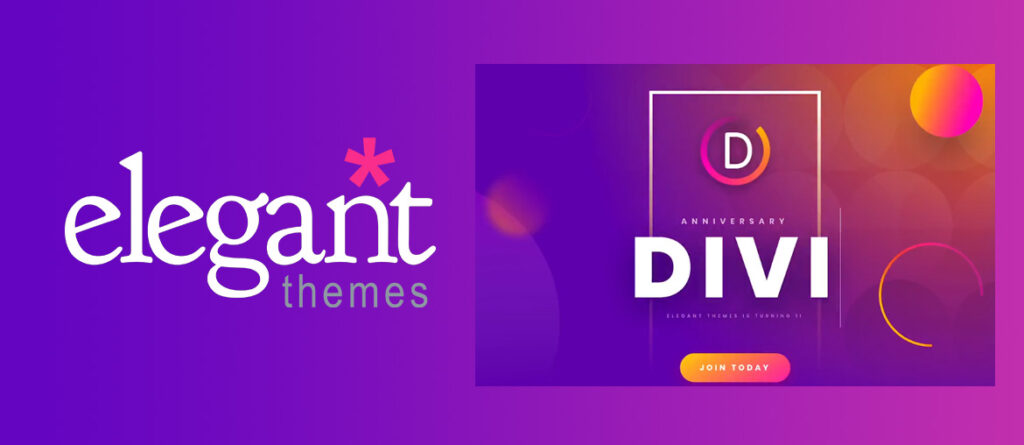 While conducting our Elegant Themes review, we noticed that the company actually offer two reasonable membership plans.
On this plan, Elegant Themes grants unlimited access to all its available plugins and themes. You can invest these plugins and themes in an unlimited number of websites. You will also be getting or receiving support and updates for all available services or products.
This yearly Access plan is humbly priced at $89 per year, making it valuable.
Fortunately, Elegant Themes made the most valuable offer for you guys who are willing to use their service for more than a year. You can get this reasonable package for a one-time payment of $249. And like the first offer, you are granted access to all the plugins and themes. Also, you're granted access to all the upcoming themes and plugins.
From our perspective, investing in this lifetime membership offer will be much valuable than the yearly membership.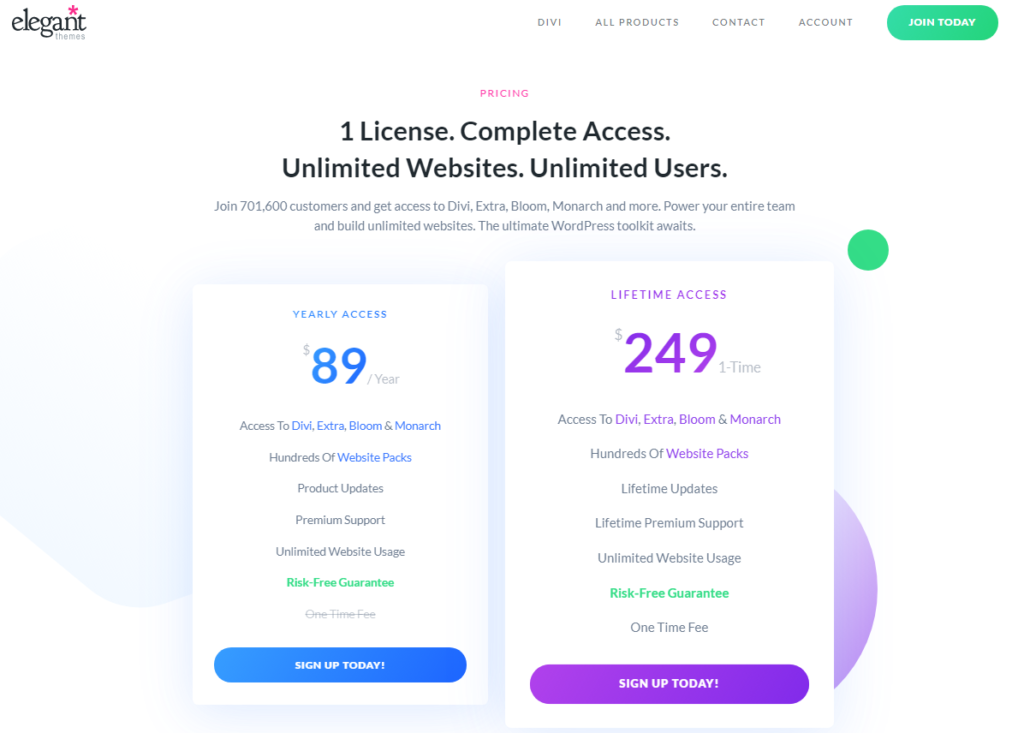 Some Of The Positives And Negatives Of Using Elegant Themes
Clearly, we stated in the beginning that this article would be unbiased. So, to keep our word, here are some of the Pros and Cons of using Elegant Themes.
As you have discovered reading this and other reviews, this theme/builder package is an easy and relatively cheap solution for website owners and content publishers. So to fulfill our Elegant Themes review, let's begin with the pros of using this builder.
Pros Of Using Elegant Themes
A powerful page builder tool.
The provided Extra and Divi are indeed unique themes.
Monarch and Bloom bring smooth, flexible user experience and performance.
The theme options panel and the customizer sections work great.
Offers superb value purchase options with its lifetime membership plan.
Great support system and team members, pushing regular updates and improvements.
Cons Of Using Elegant Themes
It might take a long time to master the page builder.
Overwhelming creative potential, making it hard for new beginners.
Some users complain about slow customer service due to not having an email ticketing support channel and high traffic (but this is getting fixed soon, by implementing a new messenger system to communicate with the users).
Elegant Themes Review – Divi & Extra Themes
We did write an Elegant Themes review in detail. However, we must include these two themes as part of their success as they are the primary asset that drove them a massive win over time since 2013.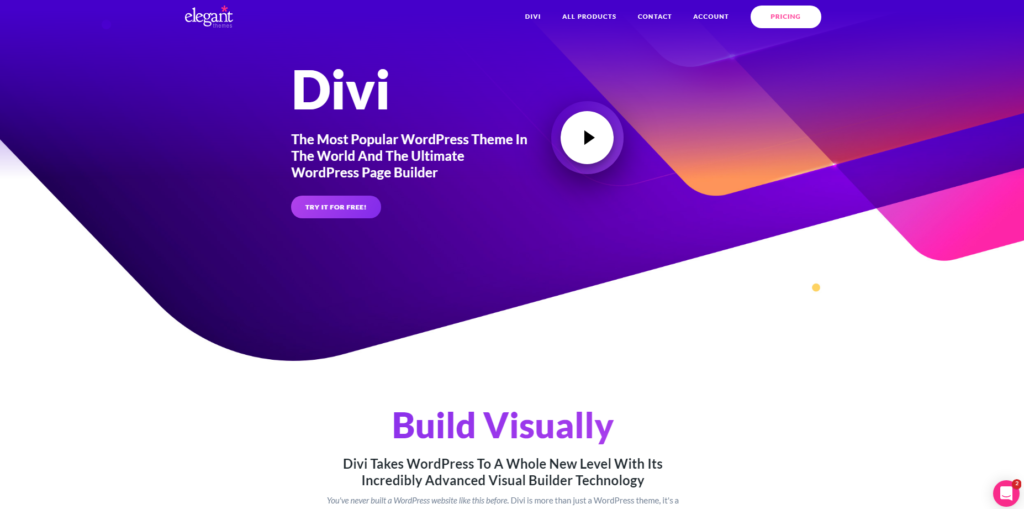 Elegant Themes launched the Divi theme in 2013 as a multipurpose theme that is simply marvelous. It is also considered the top theme and "spoiled child" of Elegant Themes and supported drive the Elegant Themes to success in such a short period.
It is impressive as you can build with it any website you desire. For example, you can begin a WordPress blog, launch an eCommerce store, and even run an online business using this highly adaptable theme with all the fantastic features it has. In fact, Divi is on the top of the best multi-purpose themes list for WordPress in the market until now.
You must also know that Divi comes with its matching equivalent – The Divi Builder. This Builder is just a "drag and drop" page builder that allows you to create a standout website without any technical expertise.
You can simply drag and drop rows, site elements, columns, and exclusive Divi modules with Divi builder to create your unique personal layouts.
And to make things surprisingly easy, Divi has added over 40+ content modules for you to choose from to support you create each webpage on your site. For example, you can attach a "call to action" button, image, number counter, testimonial, video slider, etc. with just a few clicks.
Once you pick the best content module, you can then customize it to suit your requirements. Change the font size, colors, typography, position, and more things, depending on the module you're managing.
All of this provides you full authority over how your theme, and therefore your site, look. It also helps you prevent your website from looking like other websites, which will make your site a unique and eye-catching platform.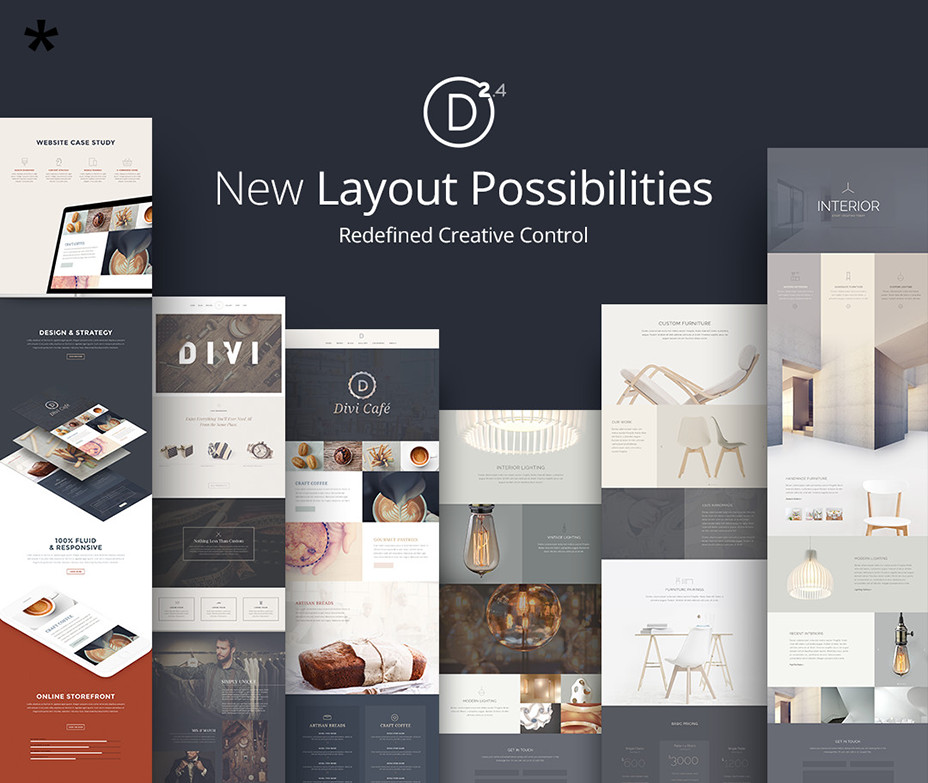 Here are other features you get with the Divi theme:
Astonishing hover effects that will engage with the users and build an interactive experience.
The drop texts and shadows for adding intensity to your site's content.
The "Magic Color Manager" for personalizing a unique color design.
The bulk editing ability to rush your page building.
The custom shapes and effects that enable smooth shifts between blocks of content.
So many built-in fonts and complete personalization of all font styles.
A 100% responsive and mobile-friendly design, so your website renders correctly on all device models.
Unique animations that trigger based on users' actions on your site.
The "tailor-made" borders come in all various styles, sizes, and shapes.
Divi Theme's Layouts & Inline Editing
Another marvelous feature of the Divi theme is the pre-designed layout packages. With 100+ to pick from, it doesn't matter what niche you decided for your site. There will always be a pre-designed layout that provides it.
When you encounter a layout you like, just import its content right into your WordPress site. Also, you'll be surprised that there are more than just one template to choose from. Divi will present you with pre-made templates for your landing, team, home, and even store pages. Certainly, the pre-made templates available depends on the niche you want. However, there is no lack of variety with the Divi theme.
Ultimately, one of the greatest reasons to add the Divi theme to your site is the front-end, inline editing option available. Not only can you pick from a collection of high-quality, pre-designed templates to manage your site's design, but you can also obtain the front end of your website and use the "WYSIWYG" drag and drop user interface. This grants you the privilege to build anything you desire from scratch with satisfaction and ease.
Divi Has Built-In Marketing Features
Increasing your marketing endeavors with the Divi theme is a fact. Divi theme has a built-in email opt-in module for creating a larger email list. And with help for famous email marketing service providers such as Mailchimp, MailPoet, ConvertKit, and AWeber, increasing your audience or growing your business, maintaining GDPR compliance, and segmenting and organizing your email campaigns, is easy and a reality.
Moreover, to be 100% sure everything is functioning the way you desire it, Divi gives you the ability to utilize its split-testing system. Publish several versions of your site to your targeted audience and access compelling insights that you can use to obtain more reliable data-driven judgments.
Elegant Themes launched Extra right after the Divi release. Extra theme is a magazine based theme that's also entirely powered by the Divi Builder plugin, making the website build a breeze. Among other things, Extra theme helps you design a site worth browsing.
You can also reach a built-in review system that is ideal for collecting your audience's feedback to your content. With adequately positive reviews, you'll be capable of boosting engagement on your site and building a distinguished brand promptly. Also, suppose you hold a ton of content for your visitors to read. You can simply distribute it into easy-to-digest categories and use Extra's tab feature to a more enjoyable user experience.
Furthermore, Extra theme makes it straightforward to build an engaging site loaded with images and text that keeps your audience desiring. In fact, the Divi Builder structure has been extended for Extra to provide content modules designed especially for online magazines and bloggers.
With Extra theme's content modules, you can:
Build a feed of blog articles and order them into categories for more straightforward access (i.e., Most Popular, Most Recent, Highest Rated).
Add a standard blog post feed on your website.
Add images to a carousel that visitors scroll through or a slider that's automated to display for browsers.
Show advertisements in your category feed and make extra profit.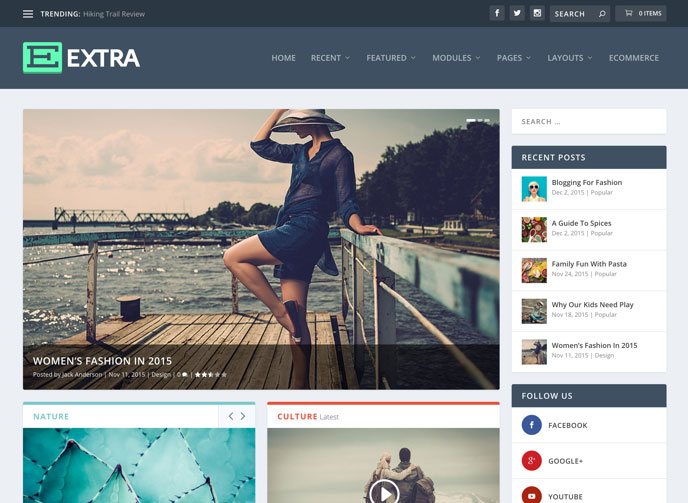 An Integration With WooCommerce
Do you want to earn money online while you manage your online magazine or blog? The Extra theme integrates smoothly with WooCommerce so you can monetize your blog or magazine by selling services, digital or physical products.
Reveal your top products in the sidebar. You also add a filter by price slider to make obtaining the ideal product simple on your buyers and show thumbnail pictures, descriptions, and items' costs in your online store. Each product page will be exactly as visually tempting as any other page on your website. Plus, to support you expand sales and make more profits, the Extra theme comes with eCommerce store features, such as:
A product zoom feature
The social media share icons
Accordion product information
The related products section for up-sells and cross-sells (an essential feature for every eCommerce store!)
The customer reviews, comprehensive with a testimonial and star-based ratings.
A New Custom Post Type
Although most of what you encounter in Extra theme is also found in Divi (The same team designed both of these themes), there is still one feature exclusive to the Extra theme "The portfolio custom post type."
Utilizing this particular custom post type, you can become artistic and create custom portfolio archive designs by applying the Extra category builder and highlight your most excellent job for your audience to see repeatedly.
Other fabulous features found in Extra theme cover:
Advanced Menus: build attractive and user-friendly dropdown menus so visitors can search all your content with ease. You can also make sticky headers that follow your visitors as they scroll down your site's homepage.
Various Post Formats: gallery, video, quote, map, text, link, and audio, provide you the choice to build the sort of blog posts you need your faithful audience to read.
Reviews And Rating Customization: provide user-generated reviews and ratings, order them to increase engagement on your site, and showcase them for others to view.
Built-in Social Media Sharing: connect with your preferred social media platforms, show the social counts, and attain a broader audience.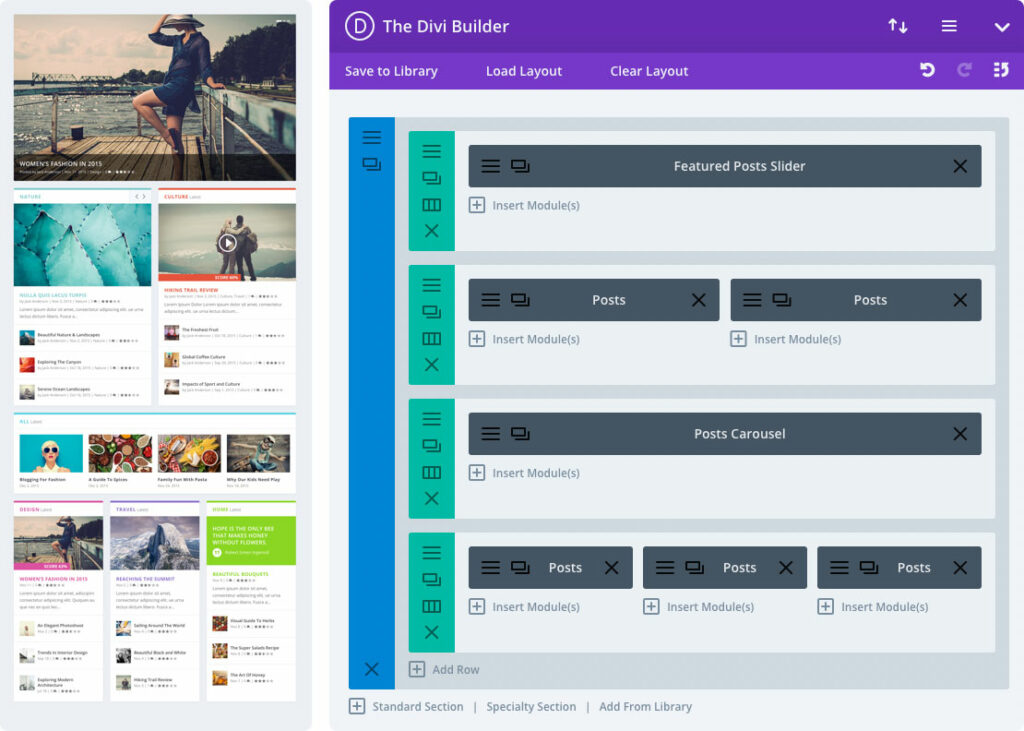 Elegant Themes Review – The Plugins They Provide
To provide you with a comprehensive Elegant Themes review, we must discuss all Elegant Themes plugins. Additionally, to the themes "Divi and Extra," getting into the Elegant Themes theme club provide you with some compelling WordPress plugins that we will mention in today's Elegant Themes review: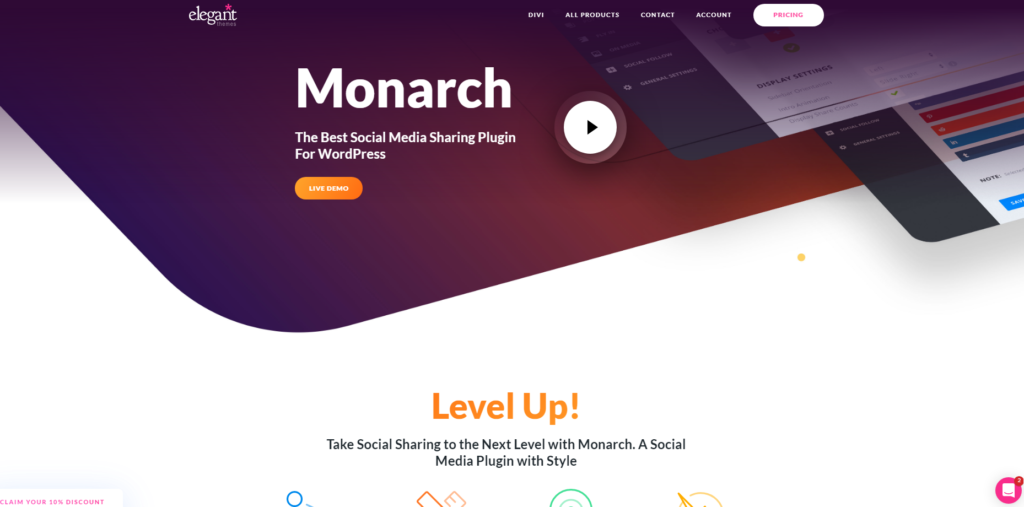 This plugin is a social media sharing plugin that allows you to add social share buttons to five places on your website:
Above & below content
Floating sidebar
As an automated popup
On images & video content
As an automated fly-in
With Monarch, you can choose from 20+ social channels. Plus, you can authorize unique triggers on your pop-ups or fly-ins, so the best audience gets the best message at the right time.
Moreover, you can allow particular triggers on your social share pop-ups or fly-ins, so the best audience gets the best message at the right time; the following are the features within:
The Timed Delay Feature: pick a time-delay for your pop-ups and fly-ins, so they emerge after visitors are on your website for a fixed amount of time.
The Bottom of Post Feature: identify when visitors arrive at the bottom of your pages or posts and show a specific opt-in.
After Commenting Feature: arrange an opt-in form after a person leaves a comment on your website's post. That comment is undoubtedly engaged with your website's content, making them more inclined to subscribe to your email list.
After Inactivity Feature: If your visitors are inactive on your site for a specific period, trigger an opt-in to rise to remind and re-engage them.
Upon Scroll Percentage Feature: an opt-in form trigger to perform once a website visitor scrolls a specified percentage down your page.
After A Purchase Feature: offer an update on forthcoming products and show promotions for buyers after securing your eCommerce shop's checkout page.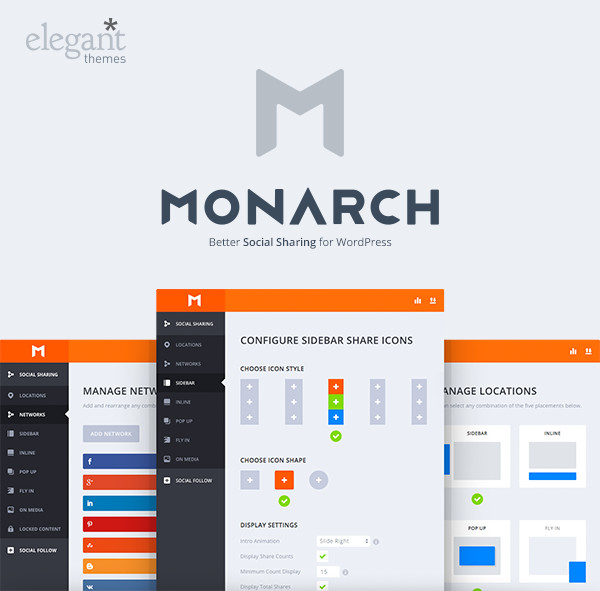 Comprehensive Customization And Control
You may already check many plugins for social share buttons and not seem like you can customize them that much, but you can with the Monarch plugin. For example, pick from three-button shapes, four in-line buttons hover effects, and five sidebars hover effects. Furthermore, you can select your icon adjustment, show channel names and social counts, and also replace the primary colors to harmonize your site's color.
You can reach an instinctive dashboard when you use this plugin to manage everything from personalization to statistics. Genuinely, you can view real-time stats concerning social shares, likes, and follows. And when you want to change websites, you can simply import and export the Monarch plugin's data and settings from one site to another.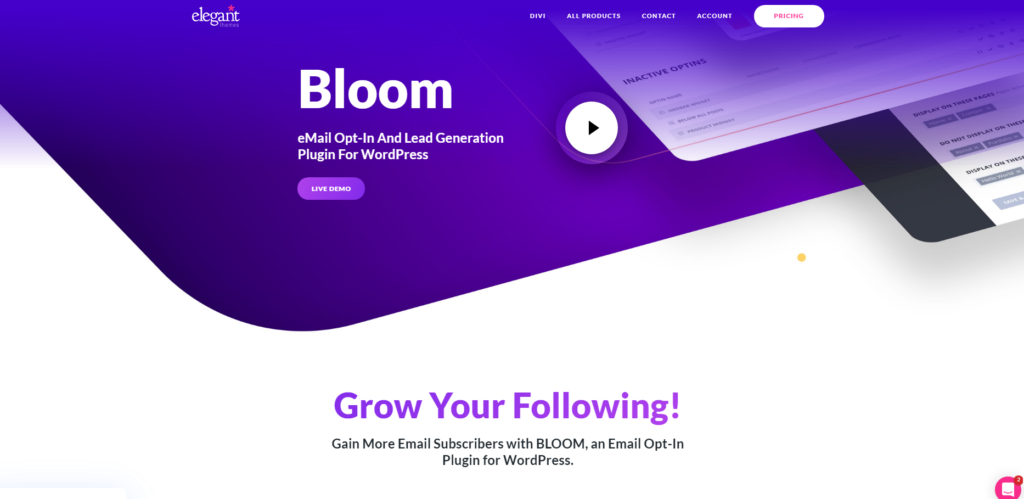 The Bloom plugin is an extraordinary email opt-in tool that makes it more straightforward to connect with your targeted audience after bouncing from your site by creating a large email list. Using the Bloom plugin, you can let your subscribers in your email list know about future sales in your online shop, inform them when fresh posts are written, and give worthy news about your business.
Once you active Bloom on your site, you will have the ability to build beautiful opt-in forms using one of 6 display types:
Inline form
Below content
Widget
Popup
Fly-in
Widget
Required opt-in
And just like the Monarch plugin, you'll hold your variety of triggers, so you don't interrupt the user experience, but you also provide your visitors as many opportunities to subscribe to your email list as possible.
You must also know that Bloom integrates with around 19 email marketing service providers such as AWeber, GetResponse, CovertKit, and MailerLite. Bloom also provides you everything you require to build an opt-in form on your website without ought to do much work at all, with 100+ superbly designed templates. Undoubtedly, if you favor building a form from scratch, there's always that possibility too.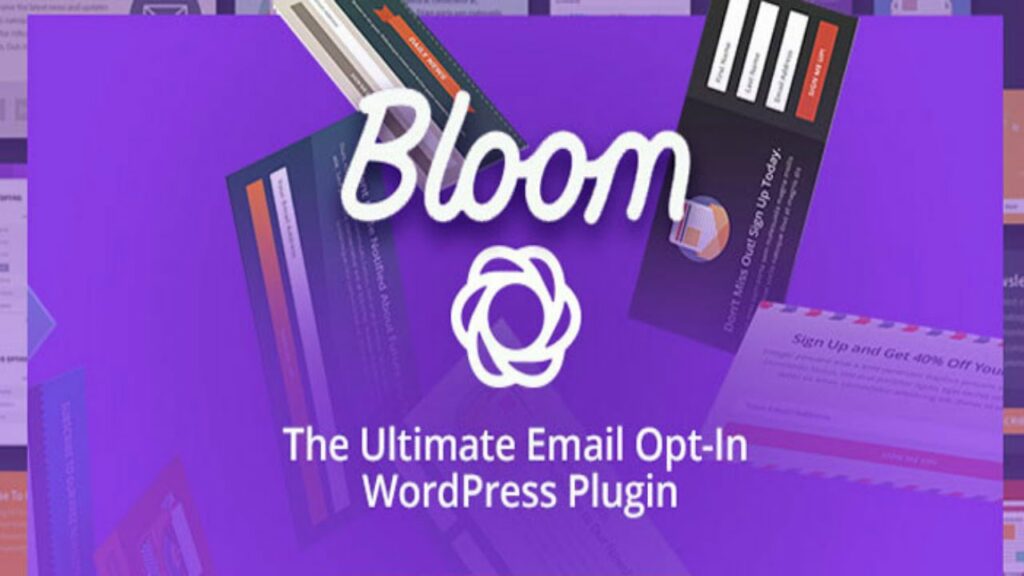 Other features you will get with Bloom include:
A built-in A/B testing.
A Fully responsive layout for smooth rendering on all device models.
Three form adjustments (left, bottom, and right).
Unlimited color choices using the Magic Color Manager.
Customized borders and edges to distribute forms from your content.
Easy import and export of Bloom data to other sites.
Intuitive dashboard for monitoring form statistics.
Image adjustments.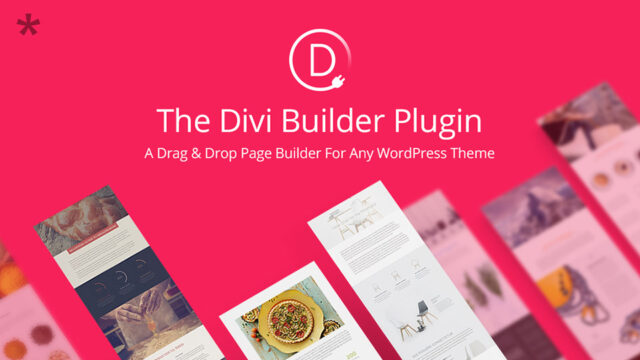 The Divi Builder plugin is built-in into both Divi and Extra themes. It also serves as an independent plugin, just like Bloom and Monarch, in case you determine to use another theme on your site.
The most satisfying part about this plugin is that you don't ought to have any coding experience to use it as it comes with a simple drag and drops visual editor that enables you to edit on your website's front-end. All you must do is access the Divi Builder interface (i.e., you can use as an alternative to the default WordPress Editor as other site builders such as Elementor and Beaver.
With 40+ content modules to pick from (Like pricing table, call to action buttons, countdown times, etc.), even a beginner site owner can create a thriving website from the ground up. Moreover, to preserve your time and enhance your page building endeavors, the Divi Builder plugin comes with features like:
Save to the library for later use.
Copy and paste rows for quicker page creation.
Addition of custom CSS.
Built-in split testing of various page versions.
Unlimited redos and undos.
Also, most Divi Builder content modules have loads of settings, so you can customize them to harmonize your brand and your goal. For instance, things like font styles, colors, animation effects, etc. can be modified in real-time. This guarantees your site resembles the way you desire before clicking "Publish."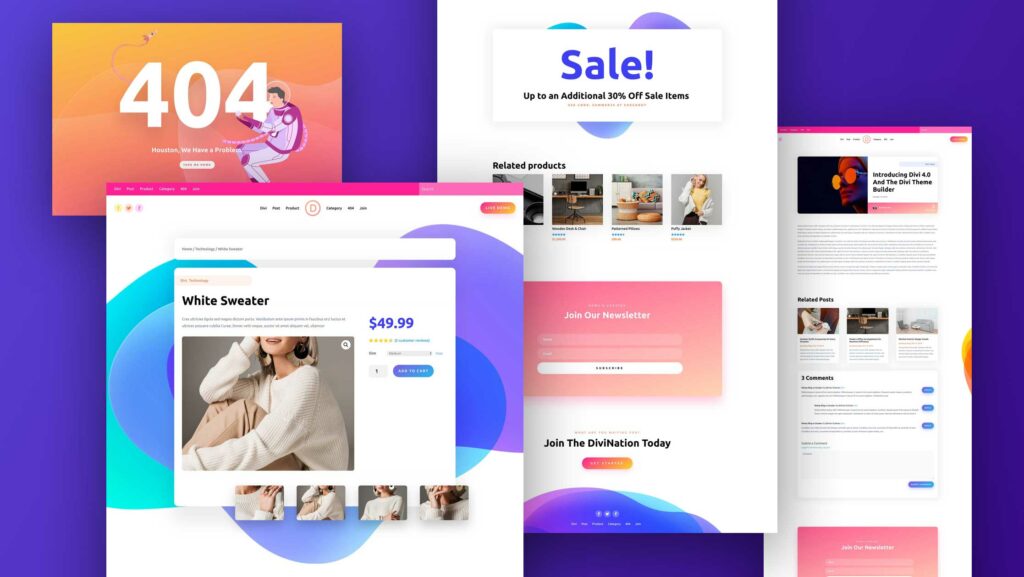 My Opinion In This Elegant Themes Review
Finally, Elegant Themes honestly offers a remarkable price deal, especially for beginners and even for people building many websites. This lifetime membership deal is so valuable. Building websites using builders makes it easier and more convenient for us.
Indeed there are many other website builders such as Beaver or Elementor. However, Elegant Themes entered the market with a strong builder, making it one of the best and top builders offering Divi and Extra as part of the top themes on WordPress.
We hope you enjoyed our Elegant Themes review, and we also hope you benefited from our humble review and got some general knowledge about this modest company. Please stay in tune for our next articles, and don't forget to share and comment in the comment section.
? Disclaimer:

Please note, this review has been researched with information and/or testimonials that are available online in the public domain as well as my personal experience and research. Any recommendations and/or conclusions are strictly opinions and may not apply to, or agree with, all persons or situations. See the full disclaimer for more info.

? This page includes affiliate links. Please be aware we only promote advertising from companies that we feel we can legitimately recommend to our readers. Please see our Affiliate Disclosure for further information.