How to start on Merch by Amazon? This question was the first question that came to my mind when I heard about Merch by Amazon. When I heard about this new platform from Amazon, I had no idea about designing, selling, or printing on-demand business. 
Surprisingly, I didn't register immediately. Instead, I started to work and learn all about print on demand which was a mistake at that time. My beginning was learning how to design using Photoshop and Illustrator. Then I started to upload my designs on other platforms such as Redbubble. Not long after that, I registered, and I started selling on Merch by Amazon.
Selling on the Amazon platform is an excellent opportunity for any eCommerce king who wants to earn an immense amount of money. Amazon is considered the #1 eCommerce platform on the internet, with more than 2.45 Billion total visits. Hence, everyone wants a piece with that pie!
Without any more delays, let's answer today's question of how to start on Merch by Amazon by first discussing what Merch by Amazon is.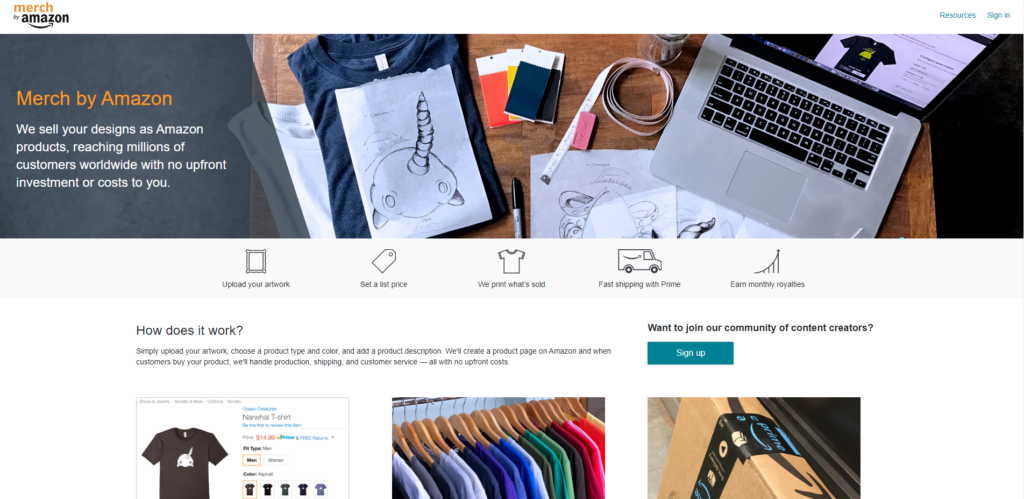 Merch by Amazon is another platform that provides a tool that allows you to start selling different products with your design printed on them on their marketplaces without any risks. And all you need to do at first is to set up your Merch by Amazon account and upload your design on the products you want to sell.
Merch by Amazon is a unique platform that allows individuals (business owners) and designers to exhibit their designs and artwork to consumers on Amazon marketplaces. You, as a designer, begin by choosing the design you want and then upload it on the product mock-up provided by Merch by Amazon. 
Then, when a customer wants to purchase, Amazon does all the hard-working from printing your design on the products in their warehouse to its delivery and shipping processes.
Furthermore, since Amazon is the largest online shopping site globally, you will have an excellent opportunity to gain enormous profits. Still, you have a lot of effort to choose appealing designs and sell them on the Amazon platform organically by learning SEO (Search Engine Optimization) or using AMS (Amazon Marketing Services or Amazon's ads).
How To Start On Merch By Amazon?
First, you have to log in to your Amazon account and then fill out your company profile. If you do not have a registered company, you should only fill in your personal information. The second step is to fill in the bank information (payment information). 
However, if you don't have a bank account yet, you can easily register on one of the best online banking worldwide, such as Payoneer, Trasferwise, Paysera, N26, etc. The third step is to fill in your tax information depending on your country. However, if your country doesn't provide a tax number, Amazon will reduce around 30% of your profits for tax affairs on their end.
And the last step is the actual application. It includes questions about the type of your industry. The answer usually choosing sells apparel, the institution's name, which is your first and last name (this information is specific to the site, and no one can see it and know it).  
Other information is required, such as short information about yourself, your experience in eCommerce, and if you have ever sold on other platforms such as Redbubble or Etsy, for example. If you have a website, you can put its URL, which increases the chances of accepting you. 
Within a timeframe of one week at least (it might take longer), you will receive approval into selling on Amazon, and your new Merch by Amazon account will be active.
So, it is straightforward to start a new Merch by Amazon account even if you do not have a large following on social media and there is no upfront cost. This gives you a lot of motivation to start selling on Merch by Amazon.  
To achieve success, you need to have unique new ideas. However, having a good blog or social media presence will improve your chances of selling your products faster and level up your tier to have the ability to upload even more designs.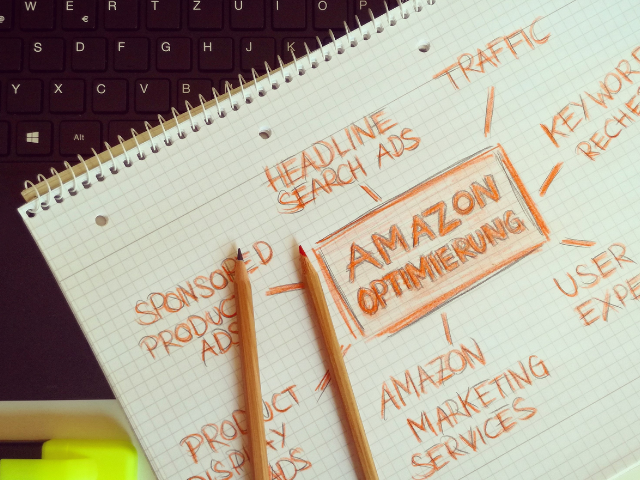 Pros & Cons Of Merch By Amazon
After going through all the information about Merch by Amazon and answering how to start on Merch by Amazon, it is time to discuss the Pros and Cons of starting on this platform.
Pros Of Merch By Amazon
You can earn money with Merch by Amazon by selling different products.  
A great beginning to the world of selling online for free. 
There are fewer restrictions regarding obtaining your intellectual property rights. 
Merch by Amazon gives you more opportunities to sell through various marketplaces. 
Merch by Amazon is a great platform to gain customers as it is one of the best eCommerce platforms. 
There are no initial costs and, therefore, nothing to lose.
You don't need previous skills in sales or marketing.
Merch by Amazon is simple and easy to use by anyone. 
Merch by Amazon offers a risk-free service if you follow their guidelines correctly.
If you are a seller, you have to upload unique designs, and when you do this, Amazon is responsible for doing most of the work, from printing to delivering the products.
Cons Of Merch By Amazon
The Competition is enormous.
All designs must comply with Amazon's best practices & guidelines. 
It would be best if you upload many designs to increase your chances of earning money. Also, you will need time to have good earnings.
It isn't easy to be accepted, and you have to keep trying as most refusals are automated. You can do that by creating new emails and Amazon's accounts and keep sending the application until you are accepted.
You need a lot of effort to learn new skills such as designing, OR you need money to outsource what you can't.
Merch By Amazon Tiers (Levels) And Limitations
After following the steps you have done now, you finished your first steps on how to start on Merch by Amazon. Now you can browse your account, and you will notice that you are in Tier 10. Tiers represent the number of designs you can upload, and you can increase your tier level by selling that same number of products. The following are the tiers (levels) in Merch by Amazon:
Tier 10 = 10 Designs.
Tier 25 = 25 Designs.
Tier 100 = 100 Designs.
Tier 500 = 500 Designs.
Tier 1000 = 1000 Designs.
Tier 2000 = 2000 Designs.
High Tiers (Tier 200k = 200k Designs, is currently the known higher tier).
In the beginning, you can only upload 10 designs, and if you achieve 10 sales, you can move forward to the second level. In the second level, you can upload up to 25 designs. Then you need 15 more sales to achieve the 25 sales limit to move to the next level and so on. 
The concept of leveling on Merch by Amazon is easy. However, gaining enough sales to level up is challenging, especially when you start leveling up to the higher levels. 
For example, after reaching tier 100k, you will need to sell up to 100k products to be eligible for the next level. Also, note that there are other requirements you should achieve to tier up. The following conditions are needed to qualify for the next tier.
You need enough sales to be eligible for a tier-up.
You need to fill at least 80% of the slots (For example, if you are in tier 100k, you need to fill around 80k designs) to be eligible for a tier-up.
You need a low percentage of return percentage.
How To Upload Your First Design On Merch By Amazon?
When you take the steps of how to start on Merch by Amazon, and the response comes from Amazon with acceptance, you can immediately begin uploading your designs with easy steps: 
Upload your original artwork as a PNG file with dimensions of 15×18 inches (4500×5400 pixel) and a resolution of 300 dpi and RGB colors so that their size is no more than 25 MB. Like that, you can ensure that your artworks and your designs meet Amazon's best practices. 
Choose the products. There are several products you can choose from, such as long-sleeved T-shirts, sleeveless tops, V-neck, phone cases, Tote bags, and others. Then you can pick the colors, which are limited depending on the product (the T-shirt's limit of colors is 10 colors only). 
Write a title and description for your product using proper keywords that follows SEO so customers can find you. And when a customer wants to buy your product, Amazon prints, packages, and ships it.  
Determining the product's price is also crucial because Amazon gets a fixed commission from each sold product, and you earn the difference. For example, if you want to sell a T-shirt, the minimum price you can sell is $13.07 on the US marketplace, and you will earn nothing. But if you sell the t-shirt at a higher price, you start making money.
Promote your product. This can be done through advertising ads that help direct customers to your products, which can be done using AMS. Unfortunately, AMS is not open for all tiers, and it is for higher tiers, and you will get invited to it once you are eligible to use it.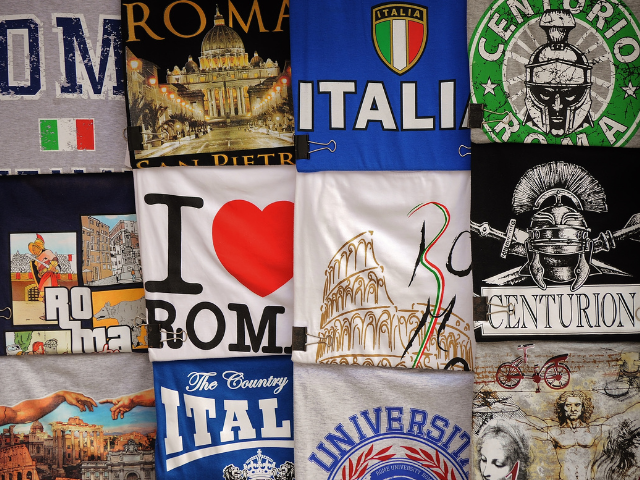 The Most Important Tools Used To Profit From Merch By Amazon
This tool is a spying and research tool that offers different tools within it. Merch informer helps you know the best items sold on the site and helps you know the most effective keywords. 
It is a tool built mainly to sell on Amazon, an essential tool used to analyze the designs presented on the platform and to know the average ratings obtained by design and the popular designs. This tool is famous for FBA sellers as well.
This tool is a unique addition that gives you a cute theme, all the information about your designs, and sends a notification when a new design is sold. There is also a cute monster for every tier! Please read our review here.
This tool enables you to spy and collect the information you want about any product available on the Amazon site by just clicking on the product you want information about, such as ratings, uptrends, downtrends, and many more.
How To Create Your First T-Shirt Design?
You can use any design software to get the graphics that suit you, such as Illustrator, Photoshop, GIMP, and Pixlr. Some tools such as Merch Informer provide you also with a designer tool that is simple to use.
Additionally, Merch by Amazon gives you many design pieces of advice. And without a doubt, you can outsource your designs, such as buying ready-made designs from different websites or hire designers (freelancers) from sites such as Fiverr, Upwork, etc.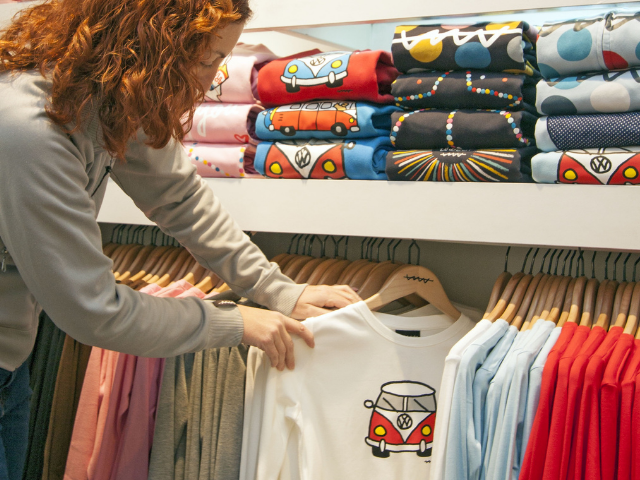 How To Promote Your Designs On Merch By Amazon?
After knowing how to start on Merch by Amazon and all the steps to get your first design live on Amazon, it is time to discuss different methods to promote your products to increase your sales. There are many strategies to promote your designs, and here we offer you the top 5:
How To Make Your Designs Original & Special On Merch By Amazon?
After you take the steps of how to start on Merch by Amazon we talked about and enter the field of selling through Amazon, you will find great competition from others who sell their designs. So you have to make your designs unique, and here are some tips for doing so.
Choosing an attractive, trendy, and unique design for your product that will attract customers' attention. Designing is straightforward after learning how to design—but designing something unique with an original idea that needs time and effort.
Marketing the product, taking advantage of social media, and creating attractive posts and paid ads to get more sales. Getting constant sales on Amazon will help your product to be seen by many other customers as a reward from Amazon's algorithm.
Spy and Study your competitors or their products similar to yours, and the Merch Informer tool can help you research and see who is competing with you and your products. That way, you can have more accurate information to improve your products and scale your business.
Branding and make it unique, memorable by customers, and not easy to forget. Branding can be complex on Amazon. However, you can do so with your social profiles, which is the best move to scale your business shortly. If you check Disney on Amazon, they sell their products through Merch by Amazon the same as you!
Choose an average price for your products. Customers usually search among similar products for the lowest priced product, meaning by choosing the lowest price, you will encourage customers to choose your product more. Of course, you can increase the price after selling several times, and once you get enough reviews and good ratings, you can improve your pricing strategies.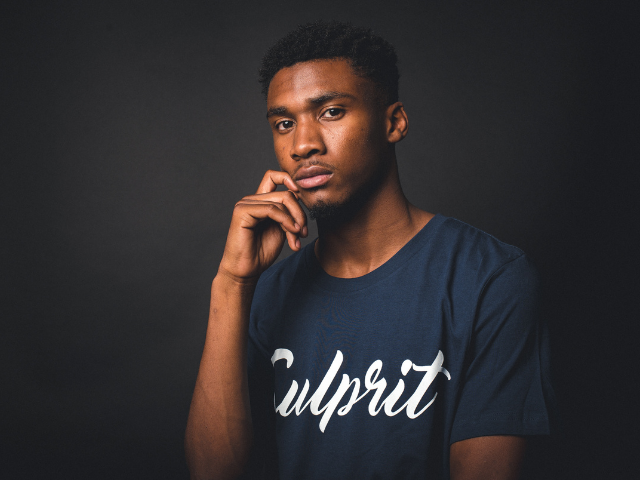 Tips For Success In This Business
Starting on Merch by Amazon is not complicated. All you need is to learn a few skills, and nowadays, you can outsource anything and hire freelancers to do all the work. If you have enough capital, you don't have to do anything. However, there are essential tips to take into consideration if you are interested in how to start on Merch by Amazon and success:
Focus on more sales with less profit to level up faster.
Use easy, clear words that are free from spelling errors. 
Do not pay much attention to the abundance of designs. One unique design is much better. Quality is better than Quantity!
Focus on keywords because they are the most important in the rise of your design in the search results and compete with others. The title and brand name are what you need to focus on when you are using your keywords.
Focus on big, dark, and bold designs, as they are best-sellers.  
Viewing designs similar to your niche, which contributes to improving your techniques.
If you cannot design properly, you can hire professional designers, which improves your chances to sell faster and more. 
Exploits so-called Trends events such as sporting events, holidays, and others. But be careful not to step into a copyright or Trademark landmine, which might cost you your account to be banned.
You have to be patient if you do not make big profits from Merch by Amazon and learn through YouTube or blogs from the expertise of others who have earned thousands of dollars from Merch by Amazon. That way, you will improve your visions and plans to improve your business.
How To Start On Merch By Amazon? My Final Thoughts
Merch by Amazon is very powerful for anyone who wants to start earning money online from the comfort of their home without any risks in promoting designs and products.
Starting on Merch by Amazon is tricky because not everyone is accepted. But if you are interested in how to start on Merch by Amazon and you have design skills, then Merch by Amazon is a great way to demonstrate your skills and make money. Moreover, the time you invest in promoting your design will make you get the results you want.
Remember, Merch by Amazon can be your opportunity to build a passive income in the future after you have a great portfolio of thousands of designs.