Pros
You Can List Unlimited Products To Your Shopify Store
Shopify Academy
Organized Product Management
Eye-Friendly Templates
Cloud-Based
Cons
Why Not A Full Month Free-Trial Period?
Budget-Friendly For The Beginner, Once Scaling, It Becomes Costly!
XML Sitemaps Could Use An Enhancement In Optimization
Avatax
Why Is Shopify the best? You might be asking a colleague who couldn't stop counting the platform's advantages whenever your lunch break turns into a host for passive income ideas.
Word of mouth has helped Shopify to gain extra scores on the popularity board quick. This is a fact! But, to be honest, no one makes it into "the best" rank without being crucially eminent at something.
What is that thing that Shopify excels at? And is it one thing or a whole set of A+ characteristics? This needs a 10-minute halt to process efficiently.
Shopify is a Canadian e-commerce platform founded by Tobias Lütke, Daniel Weinand, and Scott Lake in 2006. Shopify is trying – and succeeding – to ease the exchange of goods in the digital world.
The company that has been a small startup once now employs over 5 thousand employees and has a revenue of $1.58 billion by the year 2019. Shopify has turned into a giant platform and became a leader in its industry for over a decade. But, does the king stay at bejeweled chair forever! Is Shopify the best? If Yes, will Shopify remains the best?
As long as you are an internet entrepreneur, it doesn't matter if you own one of those mom/pop home-based cookie businesses, an online course, a T-Shirt internet-based business, or use the internet host your family's inherited multi-million dollar business franchise. Being ridiculously easy to use and super popular, Shopify opened its doors for all to hop in.
Shopify Overview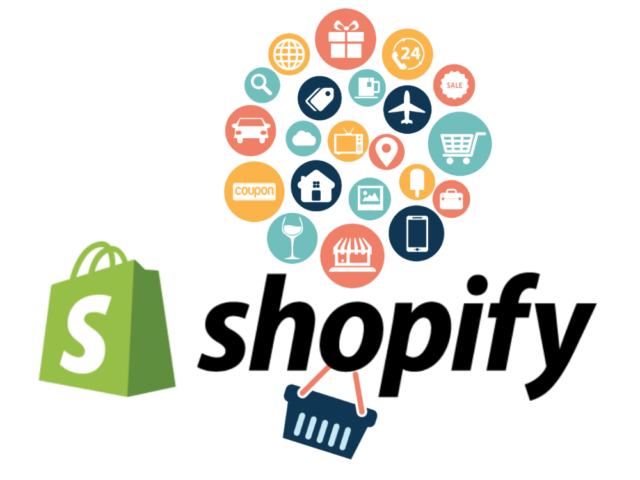 Name: Shopify
Owner: Tobi Lutke (Shopify CEO since 2008)
Starting Plan: $29/month
Overall Review: 4.45 out of 5.0
Reliability: 4.8 out of 5.0
Usability: 4.1 out of 5.0
Value Of Money: 4.5 out of 5.0
Features: 4.5 out of 5.0
Tools And Add-Ons: 4.7 out of 5.0
App Store: 4.0 out of 5.0
Support System: 4.3 out of 5.0
Shopify Pros And Cons
There are many reasons why is Shopify the best and the following are some of the Pros of using Shopify:
Pros Of Shopify
1. You Can List Unlimited Products To Your Shopify Store
Shopify holds no restrictions on how crowded your digital store should be. This is a very beneficial thing to have if you were a large organization owner who has just decided to jump marketing mediums.
2. Shopify Academy
Shopify Academy might be one of the strongest reasons why Shopify is the best if I have a say. Shopify Academy is a free coaching program for newbies. From there, you – as a Shopify-starter – will learn all that you need to build your Shopify store and market your products/services.
It won't teach you everything about marketing, but it still a top-quality educational-meal to digest. And it's FREE!
3. Organized Product Management
Product management can be a little tricky at times. Well, not with Shopify! Shopify successfully handles variants. Meaning, if your product (let's say it's a T-Shirt!) has several presentation options (i.e., color and size), you don't need to worry about managing or selling a product with different options. Shopify allows you to have multiple options for your product/service in the store.
4. Eye-Friendly Templates
When doing business, appealing shouldn't be a secondary concern! Shopify acknowledges that and does its best to give your business arts to capture the heart and steal the eye.
Templates are plenty to choose from on Shopify. Many are even free.
5. Cloud-Based
This doesn't need to be worded in a banner headline! Your business can use the several benefits that cloud hosting has to offer. And with Shopify, there is no need for costly backup software or super expensive anti-virus programs.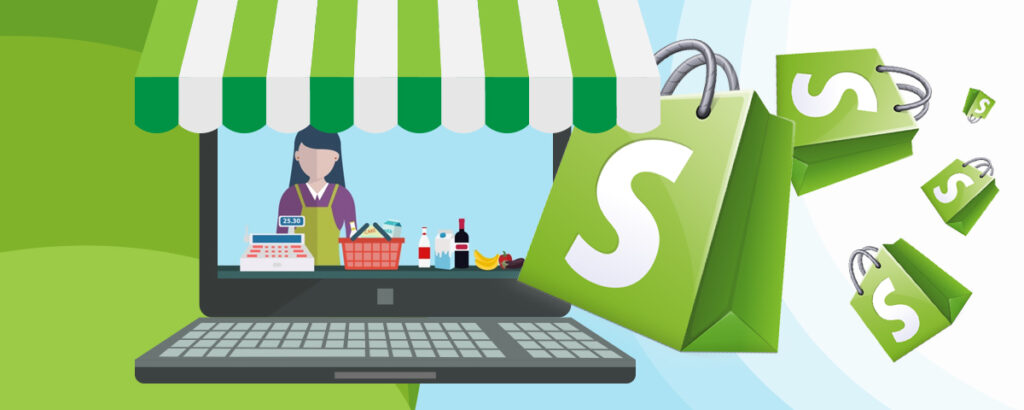 Cons Of Shopify
1. Why Not A Full Month Free-Trial Period?
Fourteen days are good to make a Yes or No decision, but why not more? Netflix offers a 30-day trial period. YouTube also gives you one month to check out its premium version. Several successful businesses use the one-month free trial period to charm their customers. It won't harm Shopify to add those two extra free weeks.
2. Budget-Friendly For The Beginner, Once Scaling, It Becomes Costly!
The difference between The Shopify Plan and The Advanced Shopify Plan in cost is about $220. Jumping plans from Advanced Shopify to Plus Shopify will cost you more than $1700!
I am not trying to mind-allude you towards a specific point. It's just amazing how Shopify manages to stay in the budget-friendly zone but finds its way to "cheat the system" and drive people to pay more.
3. XML Sitemaps Could Use An Enhancement In Optimization
Many users have already addressed issues about this. "Slow" isn't the word to describe Shopify XML templates, yet it can use extra fuel to match other templates' quality.
4. Avatax 
For those who aren't familiar with the name "Avatax," it's a cloud-based accounting software from Avalara that uses the tax calculation system. Avatax is a must-have for business owners to better-calculate their sales and expenses.
Usually, you will need to pay $50 a year to enjoy avatax; with Shopify, you can easily implement it with your digital shop. Great! So, why do you include it in the list of red flags? Because you have to have Shopify Advanced subscription in order to use it, which is an obvious use of the payment planning system to upsell.
Pricing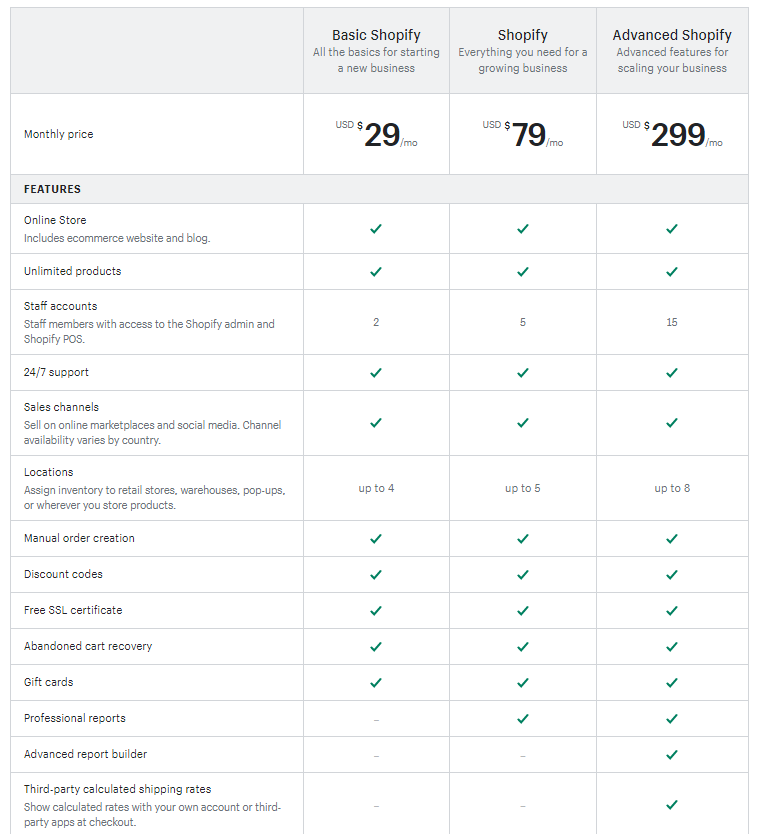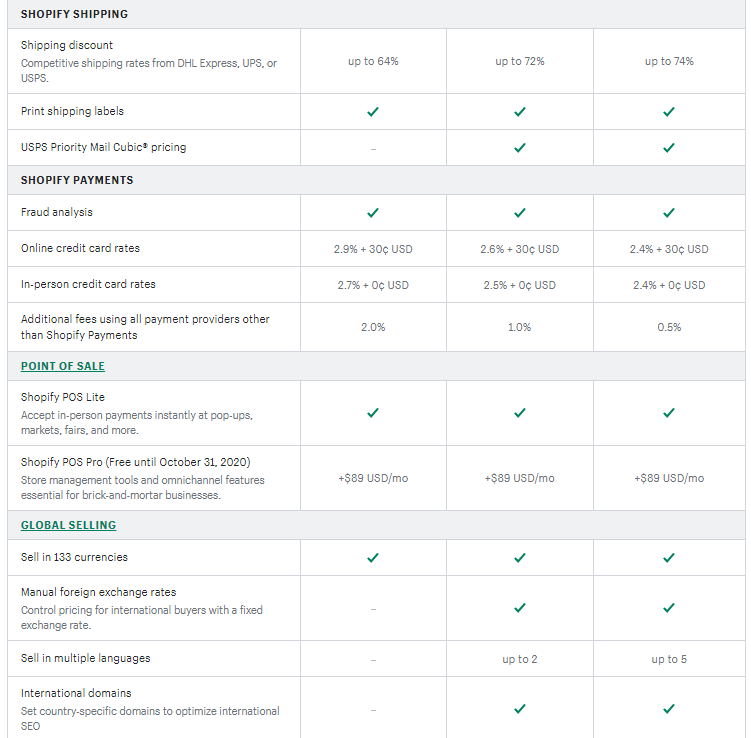 If there was a top-five list of why Shopify is the best, pricing would room a place for itself there.
Shopify plans start with as little as $9 a month. It's called Shopify Lite. With extra 20 bucks per month, you can level-up to Shopify Basic.
The regular Shopify – known as just "Shopify" – is a $79 monthly payment plan. For $299 (this is where things get heated a little bit), you can reap the benefits of Shopify Advanced.
Finally, there is a costly $2000 Shopify plan named Shopify Plus. This is usually for those who have successfully passed the amateur step and are now doing business on a risky care-needy level. All plans offer selling via Facebook, Shopify buy button, point of sale, online store, and retail package (you will need to pay an extra $40 for this last one).
All plans also offer 24/7 customer support, $0.00 transaction fees, unlimited file storage, an unlimited number of products. By jumping up from Shopify Lite to Shopify Basic, you will be able to have a website or blog and a free SSL certificate.
Leveling up from Shopify Basic to Shopify Plan will qualify your store to have gift cards, professional reports, and abandoned cart recovery. Shopify Advance subscribers reap the benefits of having an advanced report builder and real-time carrier shipping.
So, is Shopify the best? Only your budget can answer this!
Key Features And Tools
From its famous business name generator to its top-quality logo maker, Shopify tools are well-known and ease your on-Shopify experience and make your Shopify journey much better to drive through. Let's dive into a few of the most recommended tools that are considered huge whys that can determine Shopify is the best or not.
1. Term And Conditions Generator
As a professional businessman/woman, having a well-written, clear TOS is vital to your business success. No one likes to participate in hassles when doing business, especially if it results from the ignorance of one part of the business rules. Risks of not having clear terms of service for your store/website are plenty. And the scope of this article doesn't fit it.
Shopify realizes that outsourcing TOS writing might be costly for newbie business owners, so it saves them the pain and builds their own TOS generator template. This isn't a Shopify-only thing. Other key competitors have free terms and conditions generator as well. Nevertheless, Shopify clearly nailed it here with its great appealing and perfect wording.
2. Refund Policy Generator
Your business needs a refund policy! It can drive customers towards your business and have something to do with reducing your customer churn rate. This is a completely free tool given to you by Shopify.
So, is Shopify the best refund policy generator provider? No, I don't believe so. Other businesses have those as well! And it's hard to predict who has the best refund policy generator without doing some kind of a comprehensive comparison.
3. Business Loan Calculator
Borrowing money is never a smart move. Yet, for some, it might be the only way to kick-start their entrepreneurship journey. What makes Shopify business loan calculator better than that of competitors is that it's organized and simplified for the non-accountant to check.
Here is what their official website states:
To borrow _____ over a _____ year term your monthly payment will be _____ at an interest rate of _____.
Is Shopify the best or not! 
4. Discount Calculator
Doing a discount might improve your reputation, increase sales, and keep your customers happy, among other benefits.
Shopify doesn't miss out on such an opportunity. It has an easy to use discount calculator from which you can choose the calculation type.
It either be:
Discount Off One Item. 
Percentage Increase/Decrease. 
Fixed Amount Off. 
2 For 1 Discount. 
Or
Discount Sales Tax Calculator. 
In most cases, you will enter the discount applied – by your store – and the amount where Shopify will give you the amount paid, amount saves, and the price difference.
It is worth noting that you might not find such a tool if you have chosen to do your e-commerce business elsewhere. For instance, one of Shopify's big competitors (Volusion) doesn't have such a tool.
5. Business Card Maker
A solid business card might be the only thing that links you to your loyal customers. Magneto has it, Volusion doesn't, Shopify does. This tool is completely free to use and super easy to use too.
Here is what you have to do:
You enter your last name and first name, business name, job title, and some other contact info like a website and email address. You add your business logo (Shopify also has a tool for this one!) and let Shopify does its magic!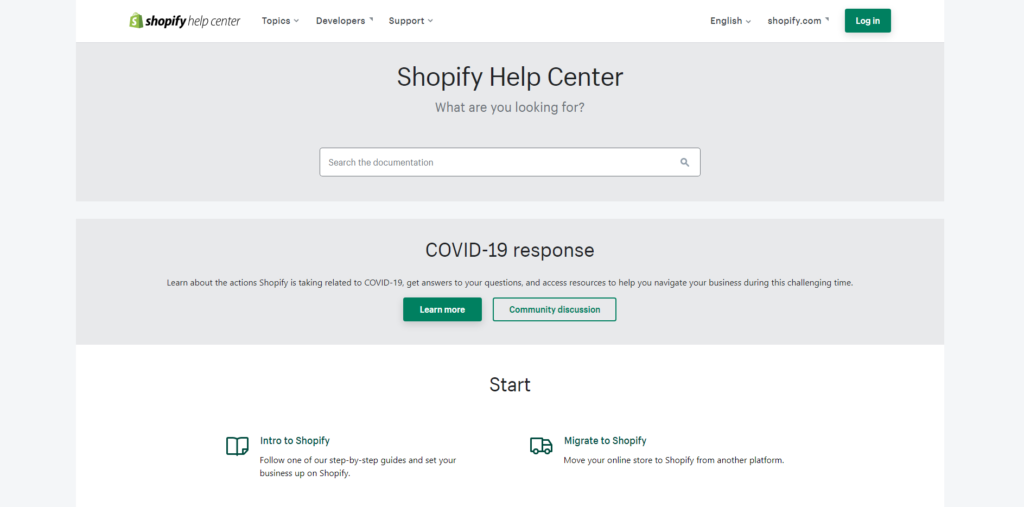 Shopify's Support
Shopify offers a 24/7 companywide reach via:
OR
Shopify's customer support stands somewhere in the middle between competitors. For instance, a famous competitor Squarespace lacks phone support. At the same time, another key competitor Volusion gives you more speedy service whenever you level-up to a higher plan (which offers more since) and also has its customer support staff return to you to see how well you are in managing things solo.
However, one thing to mention about Shopify's customer support is that it won't offer much help if you run into coding issues since the customer service staff doesn't necessarily have to be coding-knowledgeable.
Alternatives To Shopify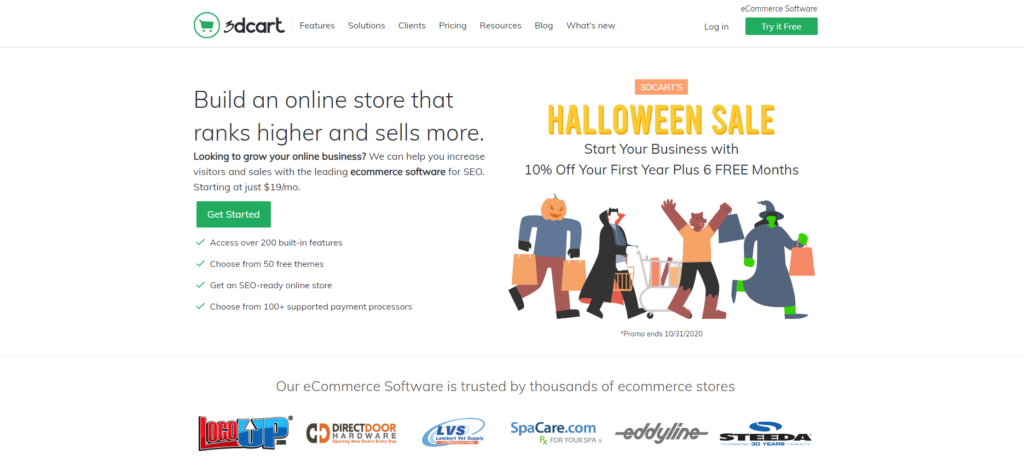 At 3dcart, monthly costs range from $19 to $299. 3dcart comes with robust SEO and a handful of integration options. Also, 3dcart has more than 70 payments getaways.
Shopify tops 3dcart on:
Dropshipping. 
Support. 
Regular Updates.
Flagship Templates.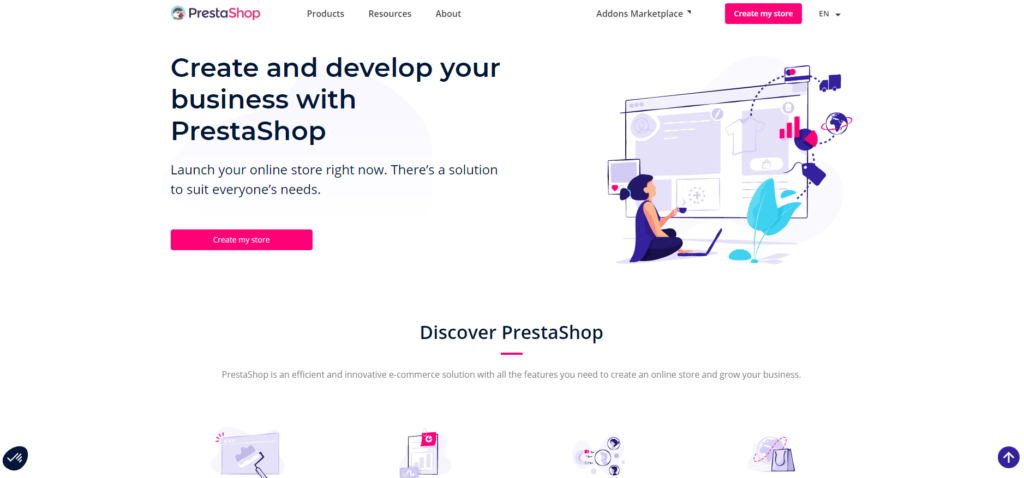 Although its name isn't ear-friendly, Prestashop sits tight somewhere among Shopify's top-five alternatives.
Like Shopify
Prestashop doesn't discriminate against geographic currency location. 
Supports unlimited products. 
It doesn't ask for additional transaction fees from the side of the user. 
Unlike Shopify
Prestashop is completely free (if you didn't count the hosting/domain name costs).
Solopreneurs with entry-level technical knowledge might face some difficulties when using Prestashop or might not reap the maximum benefits from it. 
It Isn't feature-rich. 
It only has a smattering number of free templates.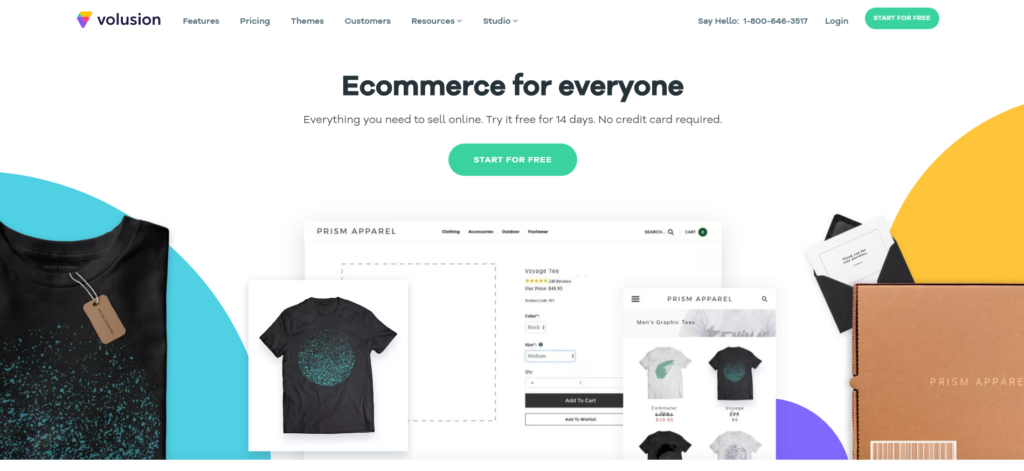 Volusion vs. Shopify dispute is non-stop. This cloud-based British giant is serving more than 200,000 businesses now. Volusion handles the hosting matter for your business. One of the things that Volusion clearly tops Shopify on is the payment plans. Volusion decides its plans based on one criteria only; the number of tools/add-ons which you can add to your store.
This is something good as it gives the buyer a clear vision regarding what he/she is getting in exchange for the extra bucks paid.
Volusion is easy to use. It has no additional transaction fees and no restrictions regarding the number of products you can add to your store. Volusion offers a Plentiful of free eye-catchy templates to magnet users' minds before aiming for their buck.
So, is Shopify the best or Volusion? That could make a great reading-meal, but perhaps for another day since we are running out of time here!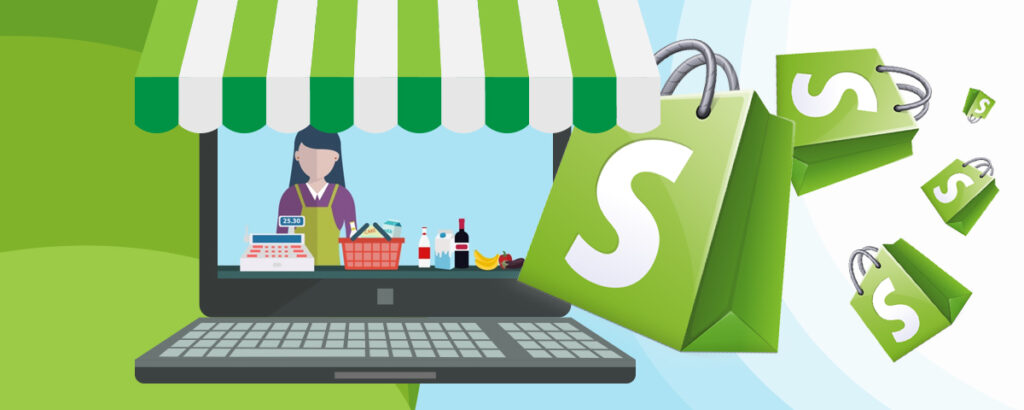 Is Shopify The Best?
Shopify-eligibility doesn't warrant a lengthy discussion! Yet, this article provided a satisfying answer for those asking whether Shopify a scam or not?
Shopify hasn't held the #1 rank for 14 years competition-free. Alternatives do exist – good ones too, according to how you see them. Yet, none of them has a catchall-nature as the one Shopify does!
Heed the advice this article is trying to spread and get your business Shopify-backed.
In the end, you shouldn't be asking is Shopify the best, but rather am I doing OK without Shopify? If your product/business is selling at great levels before Shopify, it will only get better once you digitalize it on Shopify.
Suppose you aren't improving your product quality or scaling your audience and relying solely on Shopify as a money-making tool, spoiler alert! You won't hit the jackpot!