What Is WPX Hosting Review
Check Pricing
Pros
Affordable Price
Free Custom Built-In CDN
Best Loading-Time On Market
An Easy Follow-Along Guide To Ease The Migration Experience
An Outstanding support
Cons
No Phone-Support Option
No Single Site Hosting
What is WPX hosting? It is the question that we've been getting lately with many requests regarding the WPX Hosting review, mostly from customers who are getting sick from their current hosting experience and those seeking a better alternative.
Of course, they want that! After all, a quick loading site is the most important to any online business for success. No matter your site's goal, from eCommerce sites to blogs or even for fun, your site will be much better from swift loading time. Also, improving your site's speed will help you increase your site's traffic thanks to boosted search engines' enhanced visibility. 
In fact, faster platforms have a more excellent conversion rate, resulting in increased traffic purchasing products, clicking on links(such as affiliate links), joining your email list, or taking some other specified activity as your business need.
Achieving quick loading Sites is precisely what WPX Hosting offers. In this WPX hosting review, we'll answer the question, what is WPX hosting, and we will discuss what this WordPress based website host provides. 
Suppose you're planning to start a brand-new WordPress-based website for eCommerce, blogging, etc., or only considering of upgrading the current hosting for an existing website. In that case, you must keep reading this WPX Hosting review to determine if WPX services are the most suitable choice for your business.
Name: WPX Hosting
Owners: Terry Kyle
Business Plan: Monthly Plan: $24.99/month. Yearly Plan: $20.83/month.
Professional Plan: Monthly Plan: $49.99/month. Yearly Plan: $41.58/month.
Elite Plan: Monthly Plan: $99.00/month. $83.25/month.
Overall Rating: 4.75 out of 5.0
Reputation: 4.8 out of 5.0
Reliability: 4.9 out of 5.0
Simplicity: 4.7 out of 5.0
Security: 4.6 out of 5.0
Performance: 4.9 out of 5.0
Support: 4.5 out of 5.0
Money Value: 4.9 out of 5.0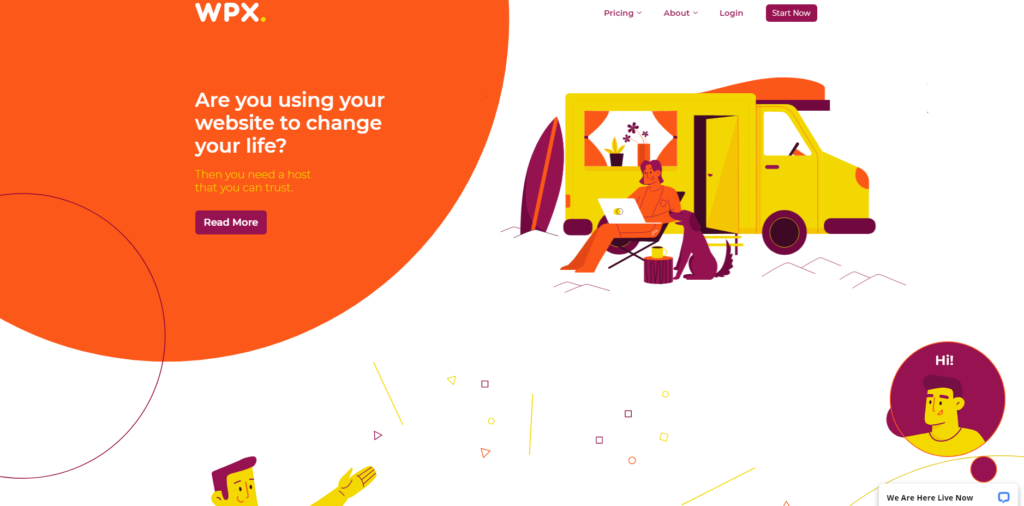 Advantages & Disadvantages Of Using WPX Hosting Service
The Advantages Of Using WPX Hosting Service
WPX Hosting is the only hosting service that gives you the best result with the lowest price.
WPX Hosting gives you the freedom to choose from more than 20 different mini-servers located in worldwide endpoints so you can allow your international customers to reach you just as quickly as your local ones.
Best Loading-Time On Market
One second or slightly more is the delayed loading time you get due to using an image-rich website. Any regular website shouldn't take more than a few milliseconds to load, something no other hosting service could keep up with.
An Easy Follow-Along Guide To Ease The Migration Experience
Most of those who hear of a new hosting service are probably already established customers of another one, so simplified migration procedures aren't an optional demand, but a vital one, and the WPX Hosting team has covered it well.
Having outstanding support to solve problems fast and efficiently is vital for every website owner. WPX Hosting provides excellent fast support, which makes it a great choice as a web host.
The Disadvantages Of Using WPX Hosting Service
Although their on-demand chat support is outstanding and reliable, sometimes vocal communication can be the best way to address issues.
Although their price range is quite good, the single-site owner might see it expensive, given that he/she is paying the price for a multi-site service when only one site is needed to be hosted.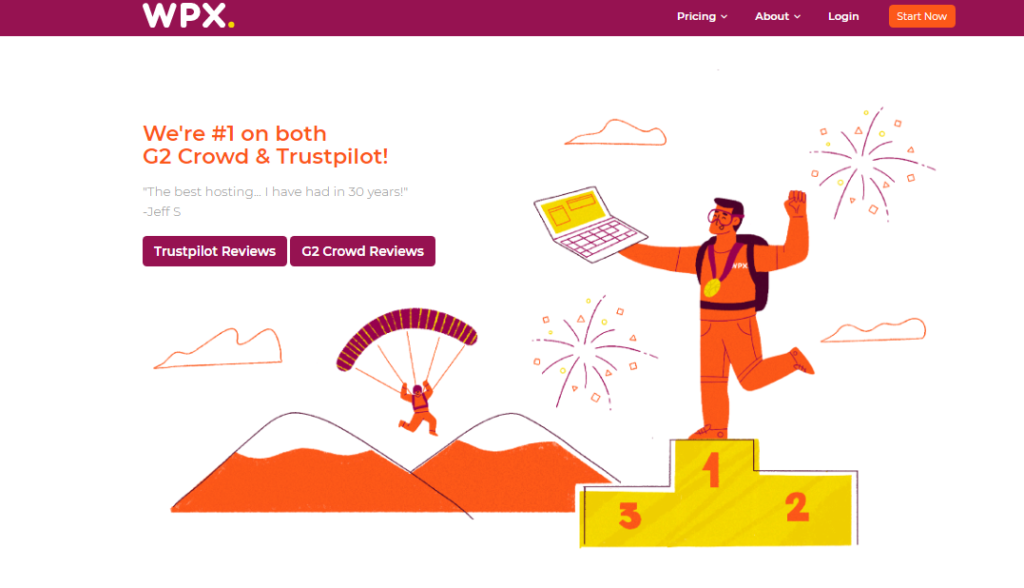 What Is WPX Hosting?
WPX Hosting provides a premium managed WordPress-based site, and they focus on delivering fast site load times with excellent support.
WPX Hosting was the quickest to load while using:
Also, WPX Hosting's support was excellent and fast in resolving problems, making it easier for business and website owners to improve their business by not wasting time waiting for the issues to be resolved.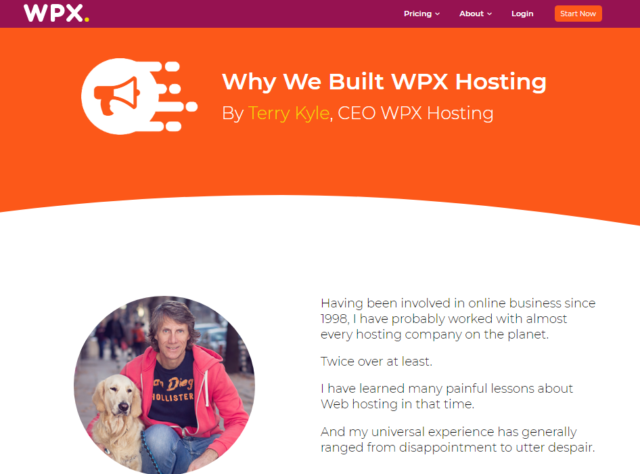 What Do We Think About Their Pricing Plans? 
WPX Hosting quality & affordability is our main concern for our readers. We were already spending a lot on our previous hosting, which wasn't so bad, so adding more expenses by trying a new service wasn't the smartest decision, but we've decided to go forward with it anyway.
Days later, it turns out to be the best financial decision for our business.
Not only that, WPX Hosting gives you affordable plans that suit every organization, small or big, but it also adds more value than the competitors who were way more expensive, by the way.
If your company is still finding its way in the business world, we recommend choosing the business plan for only $24.99/month in a monthly plan or $20.83/month in a yearly plan, and you will get 5 Websites, 10 GB Storage, and 100 GB Bandwidth with a WPX Cloud CDN. After all, you don't want to risk too much on a business that might fail at any moment. 
For those who have already established themselves and earned a decent traffic load, choosing the professional membership for only $49.99/month in a monthly plan or $41.58/month in a yearly plan, and you will get 15 Websites, 20 GB Storage, and 200 GB Bandwidth with a WPX Cloud CDN. The Professional plan will give you more storage space and a higher bandwidth rate to support your customers' needs. 
The elite plan is only $99.00/month in a monthly plan or $83.25/month in a yearly plan, and you will get 35 Websites, 40 GB Storage, and ∞ GB Bandwidth with a WPX Cloud CDN. The Elite plan is for those well-known global businesses that need more security, more traffic handling capacity, and suitable storage space.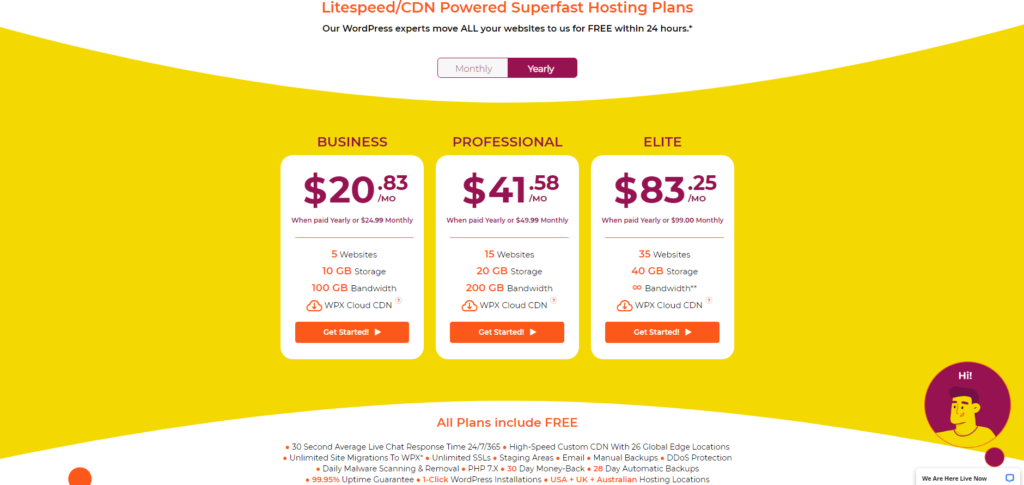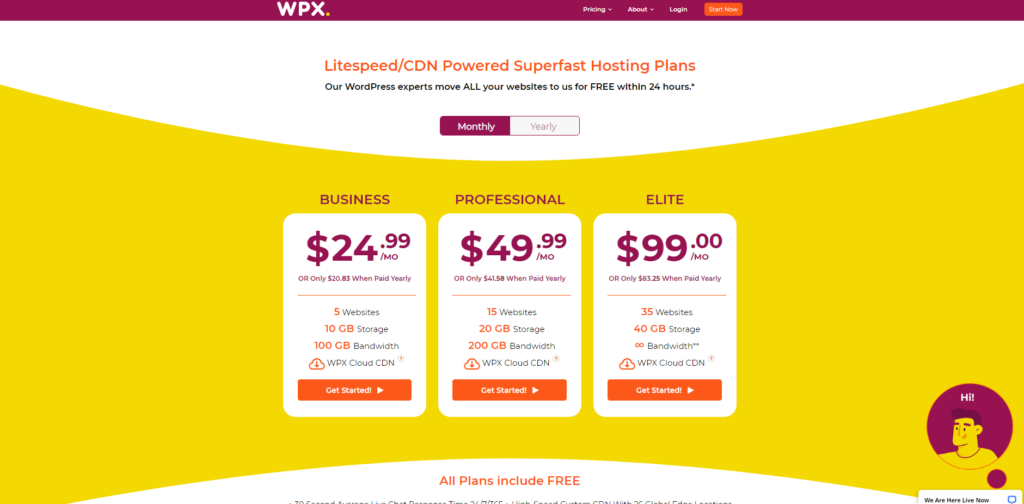 Fast & straightforward Signup Experience Was Our First Impression
Signing up is the first thing the customer does once he/she hears promising news about a specific service. That's why the signup experience mainly reflects on that firm's reputation.
Putting that in mind, we've tried to measure every aspect during our signup process, and unsurprisingly, the results were straightforward, easy, and fast process.
WPX Hosting gives you the ability to choose between registering a new domain name for your business or choosing an already existing one.
Once we've completed our signup process, the website forwarded us to a page known as the client area. From there, we were given access to detailed information regarding our account status, billing status, security info, and so much more.
We were also given access to configure our account the way that fits us and to make changes if we thought that's necessary.
Knowing all that, we are happy to announce that you won't need to wait a lot to receive satisfactory results and to familiarize yourself with what is WPX Hosting representing and why it's the best thing for your website to have.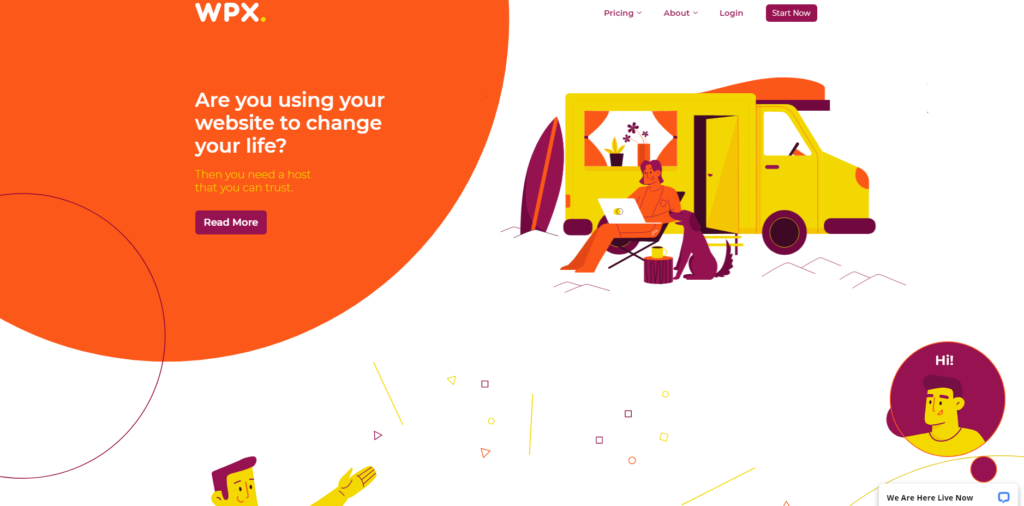 Impressive Performance By WPX Hosting
Supersonic speed is the temptation you got from every WordPress host out there. While some might fulfill their promises, many fail when users try to load an image-rich, plugins-heavy, or high-traffic sites.
To ensure unbiasedness has been taken to account, we've tried the WPX Hosting service under various conditions, once with the standard conditions, another with slightly more high-quality flash content applied, once with too many ads, and another with rich-features or more functionality to the site. 
Unsurprisingly, WPX Hosting has maintained the same loading time, give or take a few milliseconds depending on the number of simultaneous visitors. So, what is WPX Hosting? It's the smartest financial decision to make if you want a high-speed website that supports your business needs.
Around The Clock Support
No matter how good the hosting service you use, problems happen, and this is where support-quality comes to account. WPX Hosting service gives you free accessibility to a well-trained support team that devotes themselves to your needs.
A floating on-demand chat button can be used to apply for problem-solving. Within 30 seconds or less, you will be chatting with an expert.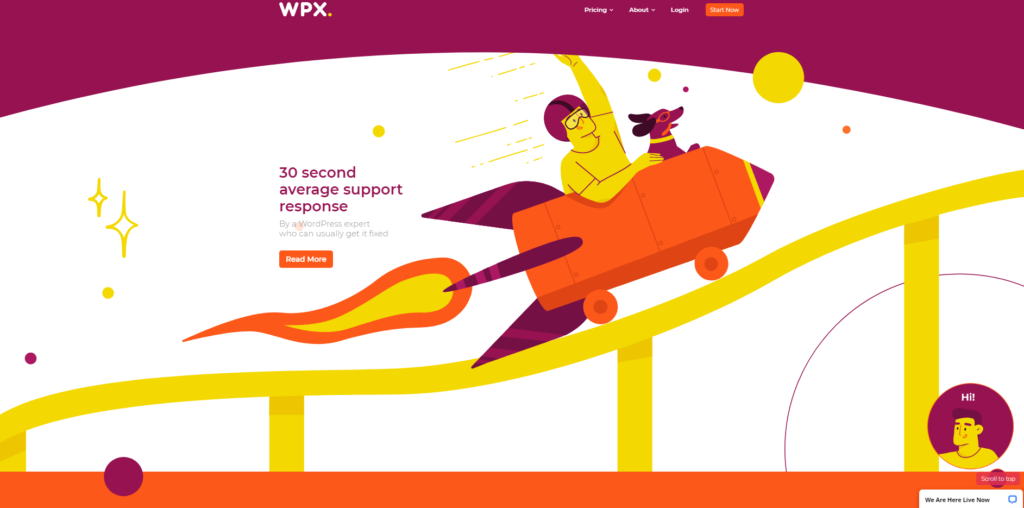 Global reach is where every blogger aims to get. Yet, most fail to see the new set of responsibilities behind having viewers from 6 different continents. Maintaining the same speed, for example, will be much trickier than before. The realization of this fact is what drove the founding team at WPX Hosting to back the service up with a custom built-in CDN called WPX Cloud.
So, to simplify the idea, let's say your US-based business has demanding customers on Asia. WPX Cloud will give you access to one of their mini-servers that is located in Asia. This will enhance the site's ability to handle high-traffic while maintaining its loading speed at the same time.
Strict Security Measures
Unlike the similar services that charge their user extra to ensure they've got the full protection they need. WPX Hosting gives you free daily cleanup for viruses, Trojan horses, spyware, and other malicious software that might've sneaked into your website. Add to that the lifetime free access to many anti-hacking features like uploading and downloading files via FTP/SFTP server as a more secure file sharing technique, regularly updated web application firewall (WFP), and DDOS protection for the enterprise-level users.
Free Daily Backup
Many things can go messy from where you are and your endpoint. The daily automatic backups not only ensure you won't lose the progress you've made but, for additional protection purposes, you can store the backups on a separate server for up to 30 days. The is no extra charge for the automatic backup nor its retrieval process in case something went wrong.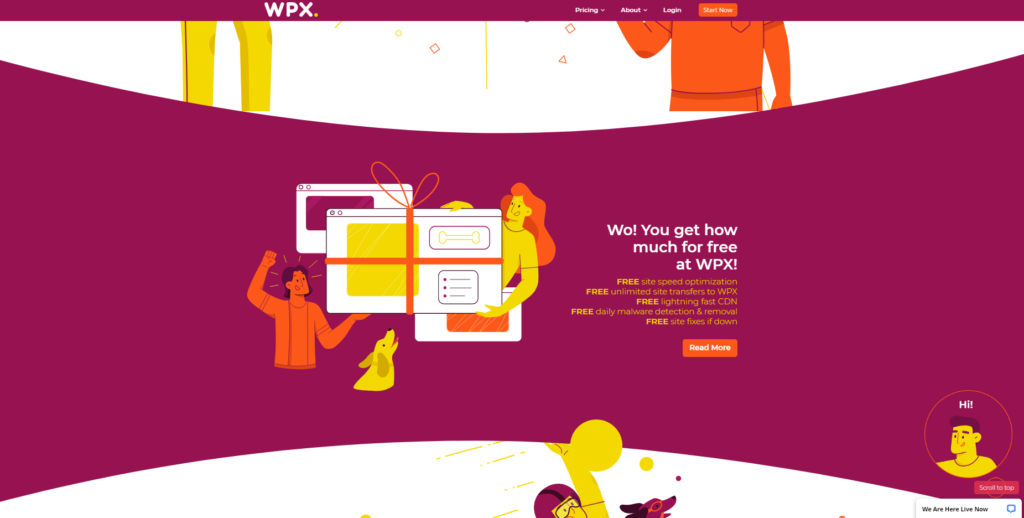 Simplified Guidelines For Newcomer's Transition
What is WPX Hosting? Why should I cancel my current hosting? Are among the many questions asked by those who are using services like SiteGround, Kinsta, or WP Engine.
They often think twice before switching to WPX Hosting. They knew how sophisticated and time-consuming platforms-switching can be due to their previous unsatisfactory experiences.
However, that's not the case with WPX Hosting. They handle migration procedures differently. It's free, simple, and takes less than 24 hours.
All you need to do is sign up for a new WPX Hosting account, go to the support section, open a ticket, and inform them of the transition you want to make. 
Once that's has been done, they will give you a set of instructions to follow. You will be asked to provide them with your current hosting details and wait for a day or so till the wrap the whole thing up, you will be informed via an email when everything is ready for you, and that's it.
Feature-Rich Environment
What is WPX Hosting without features like free SSL certificates, impressive storage space that starts with 10 GB up to 40 GB, sufficient bandwidth that goes all the way from 100 GB for the entry-level customers to unlimited for the enterprise-level customer?
Add to that an easy-to-use, instruction-driven admin panel that gives you control over your whole website.
Email Managing
WPX Hosting lets you send and receive emails by associating an email address with your website's domain name for branding and easier reach. You are also free to use a Gmail account via google apps within your smartphone if you like to.
Free SSL
SSL or secure socket layer is a term used by cybersecurity analysts. It's mainly a protocol for simplifying the encryption and decryption process for browsers.
Today, site owners acknowledge the importance of SSL certificate for the website survival against malware attacks, sure having an SSL alone won't save the day (not without other security plugins). But it's a must-have, and that's why the WPX Hosting team gives it away for free.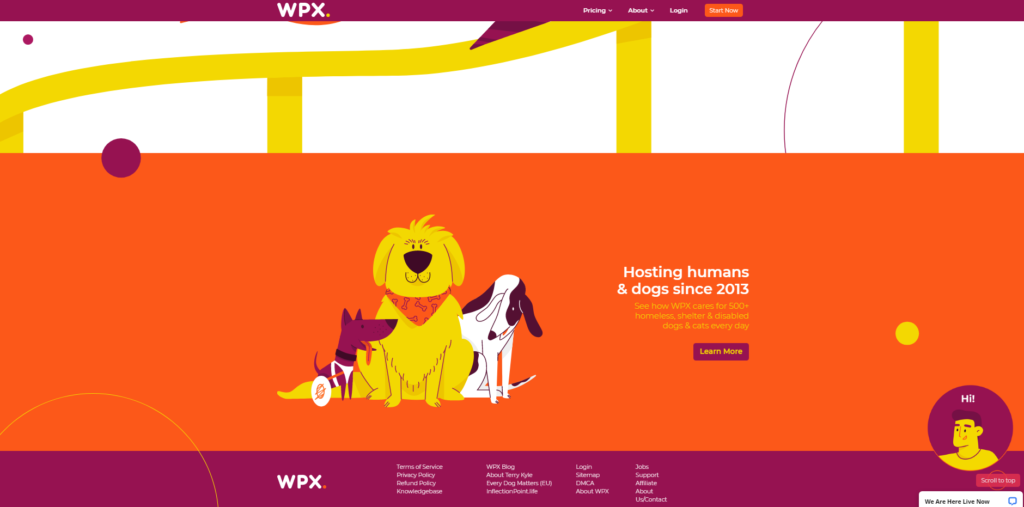 Conclusion
Now that we've covered nearly everything there is to know and answer the question, what is WPX Hosting and why it's crucial for your website survival, we think an excellent place to start is defining your business need. According to that, choose a suitable plan if you are already a WP Engine user (or any other hosting service user), you can follow their instructions to migrate easily. 
Once everything has been dealt with, give it a day or two to familiarize yourself with the service, and soon you will find out why such switching is the best managerial decision you've ever made!
? Disclaimer:

Please note, this review has been researched with information and/or testimonials that are available online in the public domain as well as my personal experience and research. Any recommendations and/or conclusions are strictly opinions and may not apply to, or agree with, all persons or situations. See the full disclaimer for more info.

? This page includes affiliate links. Please be aware we only promote advertising from companies that we feel we can legitimately recommend to our readers. Please see our Affiliate Disclosure for further information.