WP Engine VS Bluehost is the proverbial Android to IOS: which provider gives the best features at a reasonable price? They are both well-established platforms that made a name for themselves. They are both known to be the leading in their game, both have established a strong user-base, and their customers' trustiness can be noticed by their readiness to pay heavily for features they know they won't find somewhere else.
Nevertheless, when I decided to write this WP Engine vs Bluehost comparison, it was one of the most challenging articles as both WP Engine and Bluehost are fantastic in providing outstanding services. Without further delay, let's start!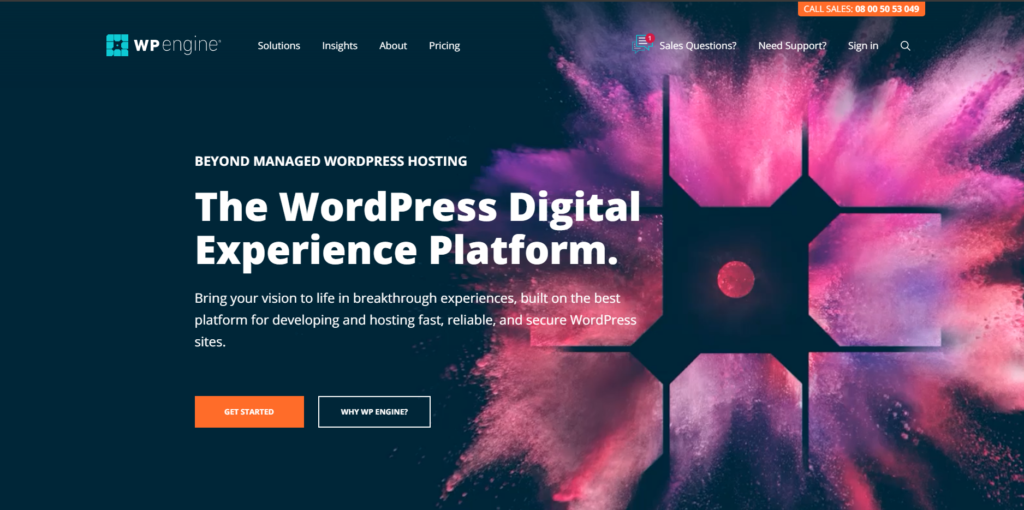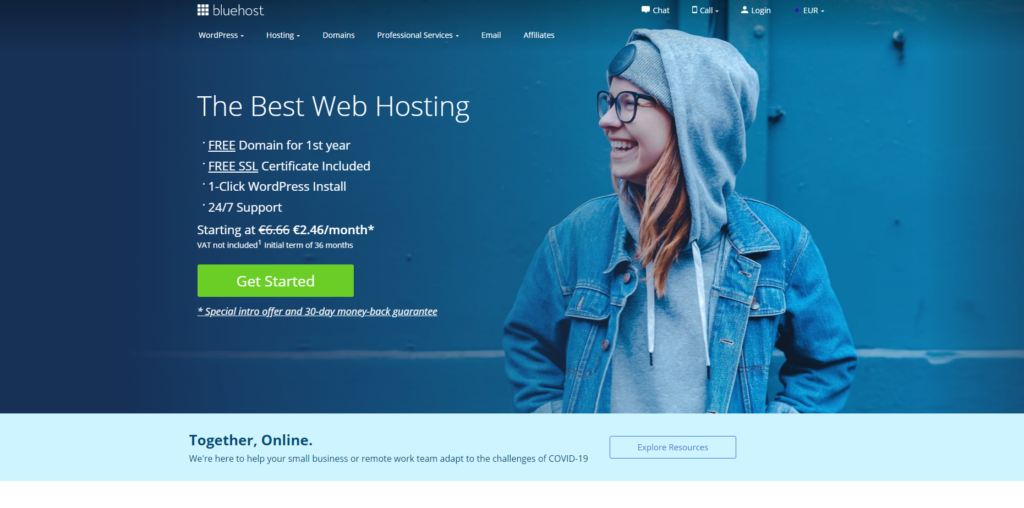 WP Engine VS Bluehost: Affordability & Pricing
WP Engine tries to attract potential clients from all different business stages with its Startup, Growth, and Scale plans. Their Startup plan gives the client a 25,000 monthly active users limit, 10 GB web space, 50 GB bandwidth all at $35 a month; however, it's only limited to one-site hosting. 
Read The Full WP Engine Review Here.
Their Growth plan is at $115 a month. It gives the customer a 100,000 monthly active users limit, 20 GB web space, 100 GB bandwidth, and the ability to manage up to 5 websites.
The Scale plan is at $290 a month with a monthly active user capacity of up to 200,000 users, web storage maximized up to 30 GB, with 400 GB bandwidth, and you can manage up to 15 websites.
WP Engine also offers a 60-days money-back guarantee option (Bluehost money-back guarantee option is limited to only 30-days).
Furthermore, you can pay monthly if you want to or grab the 2-month free option with the annual subscription.
Bluehost comes at more affordable options starting from $5.95 a month, which can be a suitable choice for the first-time website owner who doesn't want to take large financial risks at early stages. However, the hosting service doesn't allow any monthly-billing options, which means $71.4 is the service's actual starting price. Even though, it's still counted as "budget-friendly" when compared to the $35 a month starting price of WP Engine. 
Additionally, the fact that they offer several discounts when the user pays for more than one year in front (for example, a 24-month payment will reduce the monthly billing to $3.95 instead of $5.95, which is $96 instead of $142, and a 60-month payment can reduce the monthly charges up to $2.95, which is $177 instead of $357).
Furthermore, Bluehost offers unlimited domain hosting for all the plans while WP Engine allows only up to 15 websites. and even with that "comparably-low" offer, you will have to pay $290 a month to enjoy it.
Besides their Startup plan, Bluehost service has a VPS (virtual private server) Plan and a Dedicated plan for $30 a month and $150 a month, respectively.
First-Time Website Owner Support: Bluehost.
Single-Website Owner Support: Bluehost.
Discounts: Bluehost.
Value For Money: Both deliver good value.
Multi-Level Businesses Plans: WP Engine.
Final Winner: Bluehost.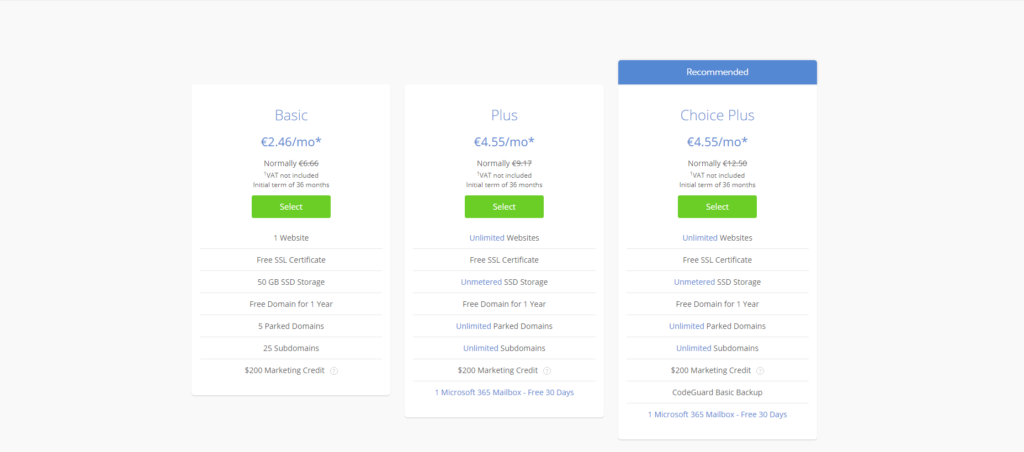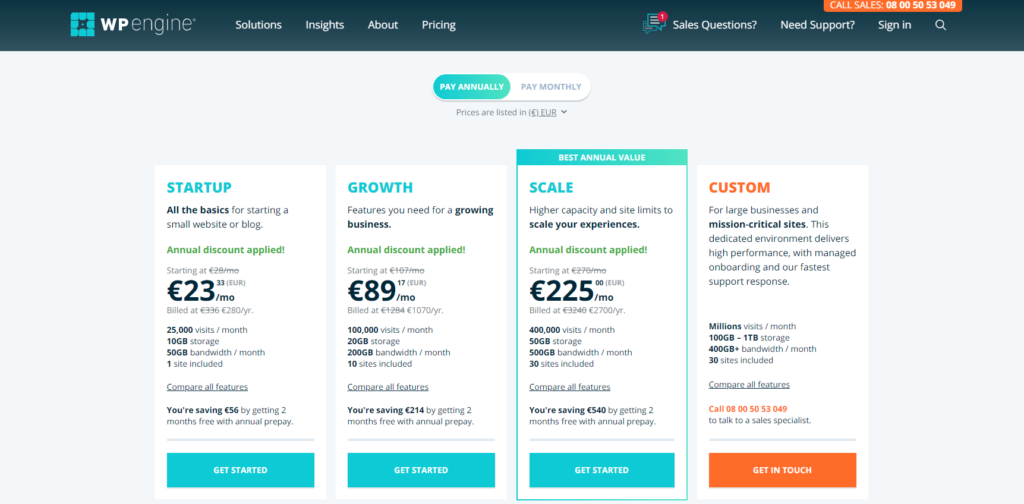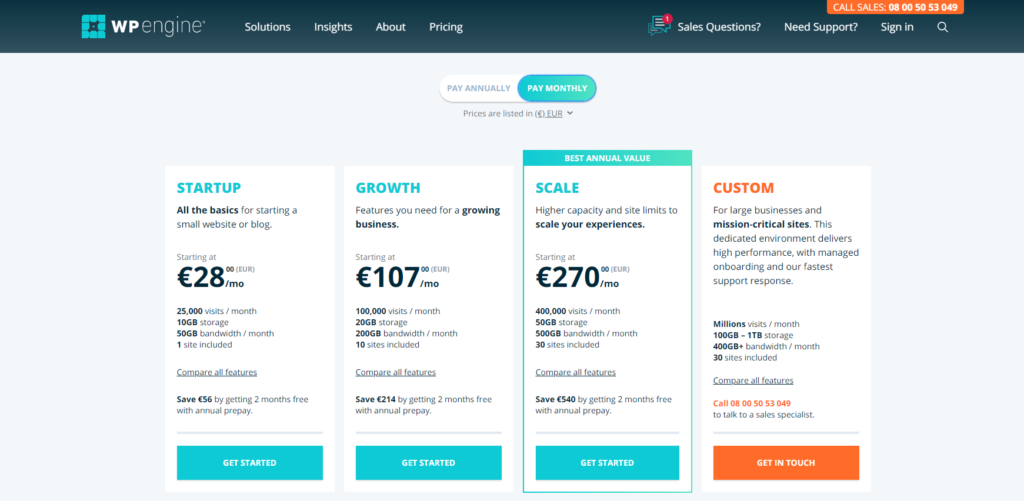 WP Engine VS Bluehost: Usability & Accessibility
WP Engine offers excellent accessibility for managing the website and scaling the business, but the problem with these options that they weren't exactly what most users searched for. They were more advanced than the customers expected. They were explicitly designed for the enterprise-level client with straightforward neglect towards their first-time website owners who will need much more time to adapt to the service given its high learning curve.
Bluehost, on the other hand, makes sure that all their clients (newbies or experts) can launch the service and get things done efficiently. Nevertheless, this "first-time user adaptability" doesn't mean they've forgotten about their enterprise-level clients who have more options than their business levels.
Easy To Get Used To: Bluehost.
More Managing Options: WP Engine.
Human Hosting Migration: None of them provide it.
Final Winner: Bluehost.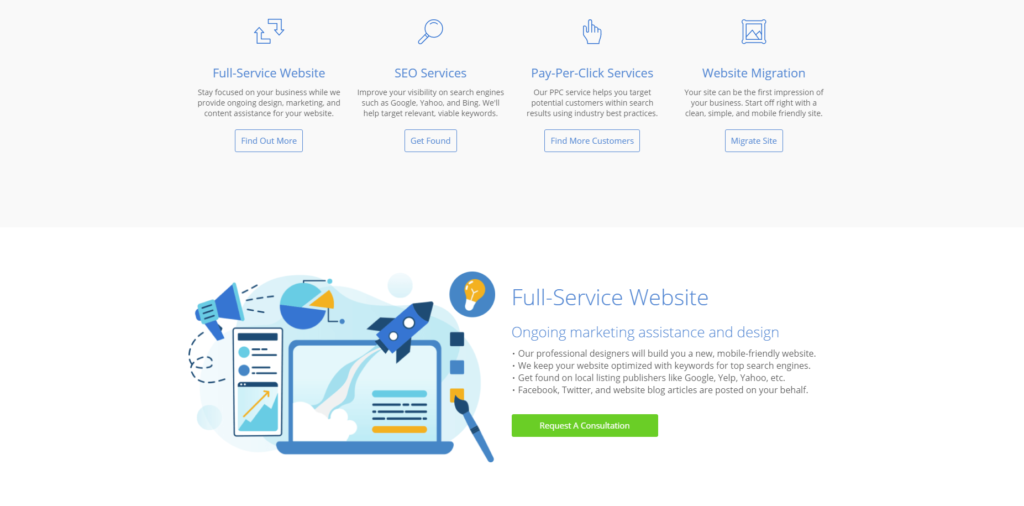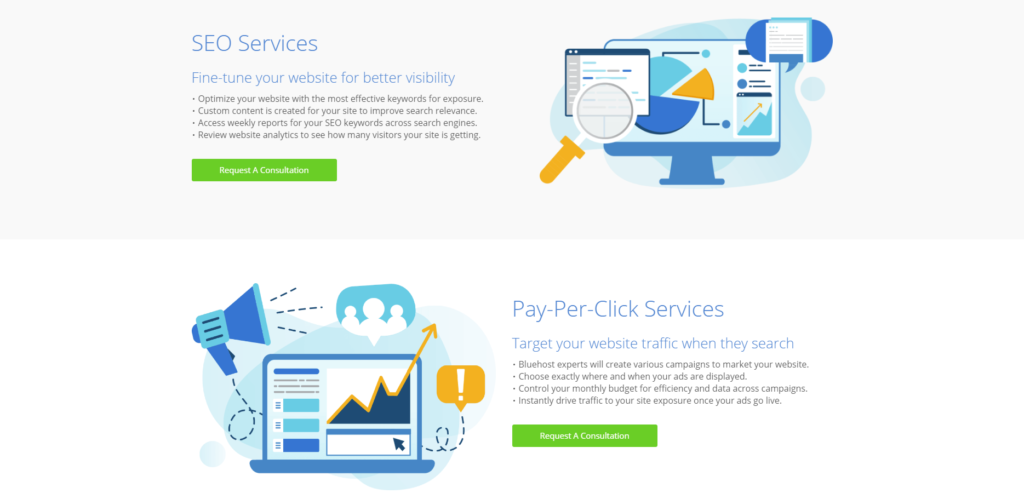 WP Engine VS Bluehost: Control Panel
WP Engine control panel can be accessed easily via the side menu of the blog or by directly visiting the user portal. Once you are in it, you will be given access to basic features such as installation management, billing information, and restore points user account, and more. The thing you might notice in the WP Engine panel is that you won't be given much of control as the service took control of almost everything leaving its users with just basic info and some minor changes to do.
Bluehost's control panel can be accessed from the left side of the screen. You will be given access to various options, including SEO tools, security precautions, email management, file management, and databases, and login info.
Being in service since 2003, Bluehost has familiarized itself with its users' requisites. Features like one login for multiple accounts, easy access to a variety of associated applications (like Drupal, Joomla, and Zen Cart), and one-click accessibility to your backup storage are all methods used by Cpanel (Bluehost's control panel) to re-shape the way things habitually gets done in the hosting world.
Easy To Find: Both can be found easily.
Handful Of Options: Bluehost.
Offers Guidebook To Help The User: Bluehost.
Simpler To Understand: WP Engine.
Final Winner: Bluehost.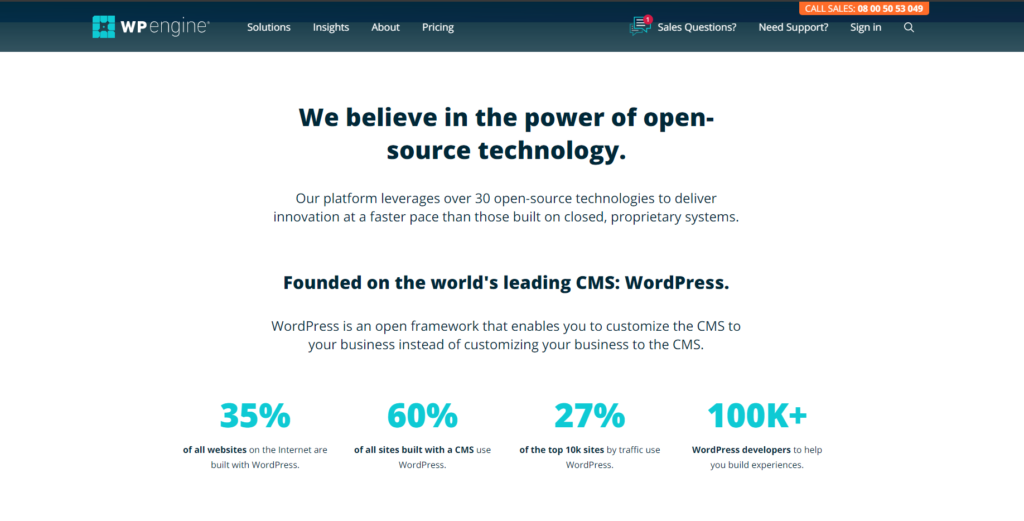 WP Engine VS Bluehost: Features
WP Engine provides its users with 100+ free add-ons that can make their hosting experience more pleasurable and rewarding.
WP Engine's founding team has enriched the service with essential features that enhance SEO, security, speed, backup, support, and design (features like Yoast SEO, Beaver Builder, MonsterInsights, and LifterLMS). All that, along with secondary plugins, might come at handy in certain situations (features like PayPal button, Yelp review, and social media sharing buttons, among many others).
Premium add-ons are accessible too, and they offer more functionality at reasonable prices. Bluehost, the shared-hosting leading firm, allowed its users to integrate unique plugins into their sites to help them achieve more from their plans. Many website owners trust features like WordFence Security, Postie, and Cookillian as a must-use.
Nevertheless, Bluehost's implemented add-ons don't offer as half the digital experience platform WP Engine provides. Both platforms give their users the necessary plugins that ensure the hosting experience stability and steadiness.
Essential Plugins: Both provide it.
Handful Of Options: WP Engine.
Design-Specified Plugins: WP Engine.
Pricing: Bluehost.
Final Winner: WP Engine.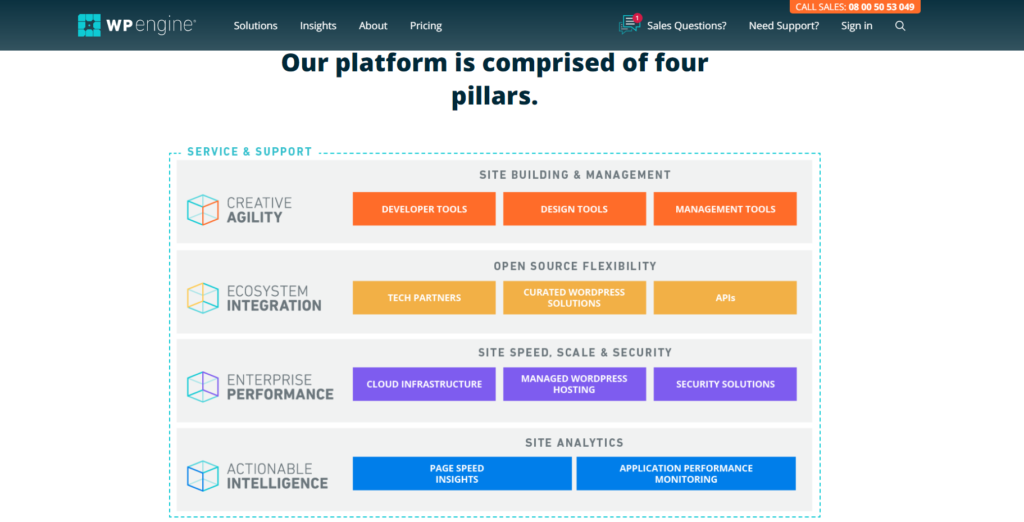 WP Engine VS Bluehost: Performance & Speed
High-quality performance and lightning speed are typically what the standard WordPress user is seeking. Thus, they are the most aspect vigorously quarreled upon by the leading hosting services.
WP Engine provides its users with implemented CDN that boosts the loading times and offers easier reach for customers worldwide. It will guarantee that your US-based site can be accessed from customers in the middle east in less than 2 seconds. Aside from loading times, WP Engine is a well-known beast at handing high-traffic situations. This capability made it most desired by customers seeking worldwide scalability and growth.
Also, WP Engine gives its users free access to a massive library of extensions were you wouldn't have a hard time searching for a speed-optimizer to aid the hosting service basic speed-friendly structure.
Bluehost's speed test results were promising with under the fraction of a second. Nevertheless, the leading hosting service was at its optimal performance when the US audience reached the customers' websites. Even though a worldwide audience won't have a "slow" speed, it will be considerably less than the US audience.
Bluehost and CloudFlare offer the users a free, implemented CDN that might solve the reachability issues. However, still, it won't compete with the one provided by WP Engine that clearly shows considerably higher results.
Global Accessibility: WP Engine.
Uptime: Bluehost.
High-Load Traffic Handling Capacity: WP Engine.
Image-Rich Website Speed: Both done well.
Support Of Speed-Optimizing Plugins: WP Engine.
Final Winner: WP Engine.
WP Engine VS Bluehost: Customer Support
Fast, high-quality customer support is an essential metric that plays a vital role in the customer's decision-making process. Nevertheless, most companies neglect it, but not our two leading platforms here.
WP Engine gives its large customer base an in-depth answer to their issues delivered by a well-experienced support staff that stood standby 24/7 to fulfill needs. On top of that, WP Engine comes equipped with free and premium add-ons specified exactly for support improvement. 
Furthermore, WP Engine makes it much easier for customers to reach support with an on-button and 24/7 available phone. Most of the customers who applied for support expressed high gratitude and submitted high ratings. It seems everyone agrees problem-solving is a game well-mastered by WP Engine founding team.
However, one frustrating issue with WP Engine is that Startup plan users can only contact the customer support team from the chat button, and they will be asked to upgrade their subscription to get phone support!
Bluehost also deliver a 24/7 phone-support (for all plans) and chat support, they also have a well-equipped team, but their downside was the comparably-slow respond time. 
On top of that, customers' ratings for the customer support were also slightly lower than WP Engine's, which points to the different levels of experience in the two platforms' support teams.
Live Chat Support: Both do well in it.
Phone Support: Bluehost.
Experience Of The Support Staff: WP Engine.
Support Extensions: WP Engine.
24/7 Availability: Both.
Fast Responding Time: WP Engine.
Final Winner: WP Engine.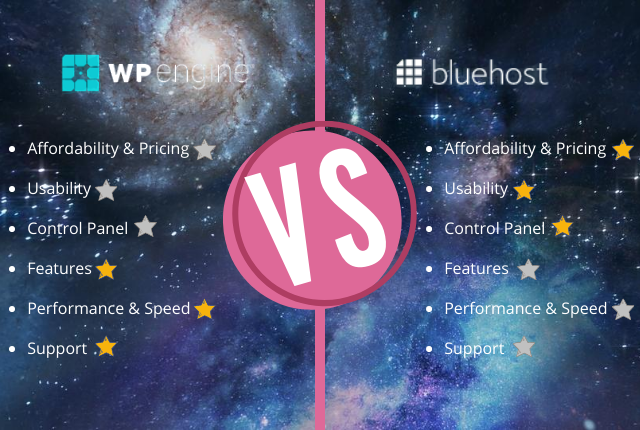 Which Web Host Is The Winner?! 
A startup WP Engine plan would be a smart financial decision for those who can afford it. It gives a better performance, faster speed, more features and extensions, and more reliable customer support than Bluehost's Starter plan. In short, With WP Engine, you get the high-speed performance and advanced functionality at more high-priced plans. However, If you can afford to pay for WP Engine and your business needs the features they offer, paying for one of their hosting plans is a wise investment.
Nevertheless, Bluehost is unique at things that you might not be able to enjoy at WP Engine even if you've paid more. Things like multi-account management and easier-to-use panel make a competition between WP Engine VS Bluehost harder to be covered in the course of one article. So, If you choose one of Bluehost's WordPress shared hosting plans, you will get precisely what you pay for (a budget hosting service).
WP Engine VS Bluehost – My Testimonial & Recommendation
After comprehensive testing and closely evaluating WP Engine vs Bluehost's strengths, my advice is to choose and use WP Engine. While the plans cost is higher compared to Bluehost, the enhancement in speed, reliability, customer support, stability, and technology advances far surpass the possible savings at a web hosting platform like Bluehost.
However, if you are not searching for a WordPress CMS-hosting and are on a tight budget, Bluehost is a better choice for your business. As you may be noticed from the above article, Bluehost is a pretty reliable hosting for the cost they offer.
Top Web Hosting 2020
? Disclaimer:

Please note, this review has been researched with information and/or testimonials that are available online in the public domain as well as my personal experience and research. Any recommendations and/or conclusions are strictly opinions and may not apply to, or agree with, all persons or situations. See the full disclaimer for more info.

? This page includes affiliate links. Please be aware we only promote advertising from companies that we feel we can legitimately recommend to our readers. Please see our Affiliate Disclosure for further information.