The question is not how to make a Facebook ad, but how to make a Facebook ad profitable and reach your goals. It is so easy to make a Facebook ad and run a campaign but the trick is to make money from it. There are many tips and tricks on the internet and today I want to share with you 4 tips to How to Make a Facebook ad Profitable.
Facebook ad is a valuable and amazing tool to achieve your goals with your online business, but you need to be using them in the right manner to ensure your ad campaign giving you the best results and you are not throwing away your marketing budget. Facebook advertisements are display ads, which means they are not searchable.
This is the point where you need to really put all your focus on the ad, and to be sure that you are on target. It may seem difficult to do or to achieve at times, but once you start doing it, you will understand and do whatever necessary to stay on target and achieve your goals.
It is always good to ask people with more experience or search for more information about anything if you feel overwhelmed or missing information about anything. Just stay focus read all the tips on this post and previous posts to master Facebook ads.
You'll Also Love These Posts:
Facebook Home Page to Master Marketing – Facebook Advertising Tips Part1
Facebook Home Page to Master Marketing – Facebook Advertising Tips Part2
Facebook Home Page to Master Marketing – Facebook Ads Tips and Tricks Part 3

4 Tips to How to Make Facebook Ad Profitable
1- High-Quality Images
Image Image Image Image, 80% of your success is within the image!
How to make a Facebook ad (Profitable) can be done with the image!
Since 80% of your ad impact is linked to the image you put then it makes sense that you take all the time you need to find the right image for your ad and that the ad is of the highest quality.
You need a catchy image, an image that will catch all your audience attention and make them want to discover your product and maybe read more about it! You need to make sure not to use distant images because the Facebook image resolution is 100p x 72p. So always work with HQ images.
2- Place Your Efforts Correctly
Without a doubt, you need a huge effort to aim it correctly to get good results from your ad campaign, remember, people arrive daily at Facebook not to purchase products or search for your website, they come online to connect with their family and friends.
So your goal and purpose with your Facebook ads to create the desire and demands, once you achieve that you will see people running to your product to buy it. There are 3 main keys you need to be aware of in your ad:
1- Image Image Image Image – 80% of your ad campaign success to make a Facebook ad profitable is determined with the image so be 100% sure to give all the time needed for the image.
2- Headline – I would say headline take somewhere between 10-15% of your ad success. The headline must be attractive and get your audience attention.
3. Body – 5-10% of your success is in the text, simply because most of the people will not read it BUT never ever underestimate the power of the text! You might get all the customers from the text if it is great and attractive.
3- Know Your Audience Well
Knowing your audience is something so important, once you know them well you can enjoy the full potential of Facebook's targeting options and the success of your ad. You can create Facebook ad campaigns that can reach deeply into your targeted audience, without any problems.
Before you start your ad campaign. You should have the answers to these questions:
* Where does your Target Audience live?
* How old your prospect?
* What fan pages do your prospects like?
* Can I create my ad so it specifically targets my demographic?
* What kind of free offer can I use to capture leads?
4- Be Sure You are on Target
You already established your target audience, so make sure you are taking full advantage of this opportunity to reach exactly who you want to reach to achieve the best outcome of your ad. When you are choosing your target audience, be careful that you do it correctly. Choose the 'precise interest options,' to really connect with those people that you are targeting.
5- Bonus Tip
So many sellers or business owners forget this important tip so often. Sometimes it is the main reason they lose money or fail in their Facebook ad campaigns.
It is important to always put in front of you a reminder to your goals and you need to understand in your field of business there is a Percentage to fail or lose, but never give up and keep going, that's how you are going to reach the top and earn what you want.
The Last thing I want to point out here, you are dealing with PEOPLE, so always make sure to take it seriously about how you reach them, they are not stupids and they will understand and know everything. So be honest and kind to them and you will get what you want and even more.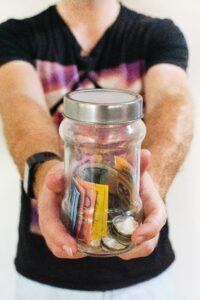 Conclusion
How to Make Facebook ad is an easy task to do, However, it is tricky to make the ad profitable, to Make a Facebook ad in a way to achieve the best of it and gain more traffic by time can be difficult but it is worth it once you achieve your goals. If you do it right, you will be surprised by the results you get from these ads.
The idea is always to gain people trust, believe me, if you gain their trust you will have "Organic ads" because people enjoy spread words to each other. So make sure to put this in your goals! Use these 4 tips on how to make a Facebook ad profitable.
Do you have more tips and tricks to add to our How to Make Facebook ad – Make a Facebook ad Profitable, Do you have another opinion about it? or a question about Facebook ads? feel free to write your comment, opinion or question below!
You'll Also Love These Posts:

Studies have shown if you like this blog article — you will also love the following posts.